14 Best Places To Visit In Igatpuri That Are Exceptionally Beautiful
Igatpuri, a stunning hill station and a mesmerizing beauty that is located in the Sahyadri Hills of Western Ghats has gained a lot of popularity over the period of time owing to the beautiful landscapes and exceptionally alluring views. Igatpuri is a paradise for people who love nature and adventure activities. The old forts, majestic mountains, roaring waterfalls, and pleasant climate make this place a heaven on earth.
Not only is this quaint little town full of panoramic landscapes but also rich in historic and cultural past. Away from the urbanization and retaining a mystic air, this place should be on everyone's bucket list. There are many amazing places to visit in Igatpuri that will make you want to not leave from here and keep exploring every nook and corner of this town.
15 Best Places To Visit In Igatpuri
Are you looking for a place where you can get away from the hustle and bustle of the city life and spend some time in peace? Igatpuri offers some of the best spots to visit on your vacation away from home. Let's take a look at some of the best places to visit in Igatpuri.
Kalsubai Peak
Tringalwadi Fort
Vipassana Centre
Bhatsa River Valley
Camel Valley
Ghatandevi Temple
Kulanggad
Bitangad Trek
Sandhan Valley
Vihigaon (Ashoka) Waterfall
Vaitarna Dam
Amruteshwar Templev
Darna Dam
Dhamma Giri
Talegaon Lake
1. Kalsubai Peak
Mt. Kalsubai is famous for being the highest peak of the Sahyadri ranges and one of the most popular places to visit in Igatpuri. The peak is known for offering breathtaking views of the majestic mountains in Bhandardara. The Kalsubai Peak is known as the Everest of Maharashtra owing to the fact that it is the highest peak in the entire state.
The peak also offers a chance to trek and explore the peak in the most adventurous way. The trek, however, is tricky and quite difficult and even the experienced trekkers might have some difficulty in making their way to the top. For those who do not wish to trek, there are also man-made stairs to reach the peak.
Location: near Igatpuri (32 km)
Timings: throughout the day
Must Read: 20 Best Resorts In Lonavala: Embark On A Getaway From Mumbai And Pune In 2020!
2. Tringalwadi Fort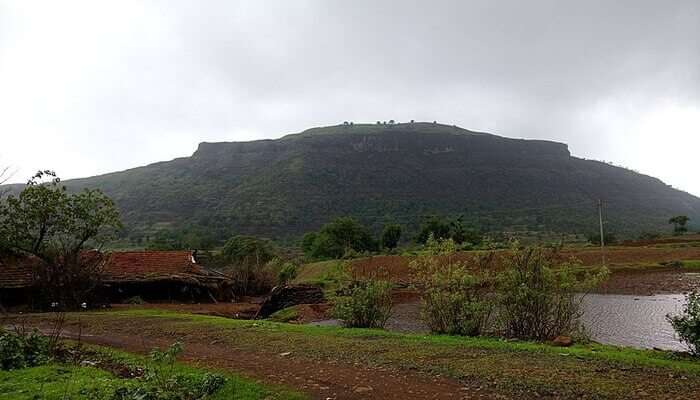 Situated at an elevation of 3000ft above the sea level is the Tringalwadi Fort which is one of the popular places to visit in Igatpuri. The fort is located behind the Ghatandevi Temple and is known to offer scenic views of the entire area. The fort is popular amongst hikers and trekkers alike. One of the distinguishing features of the fort is that the top of the fort looks like a turban and you can see the entire mountain range from the top of the fort. There is also a lake nearby with a Hanuman temple that attracts tourists. Consider this as one of the most interesting places to see in Igatpuri.
Location: 10 km from Igatpuri
Timings: 6:00 am to 6:00 pm
Suggested Read: 20 Best Villas In Lonavala To Spend A Luxe Vacation In The Hills
3. Vipassana Centre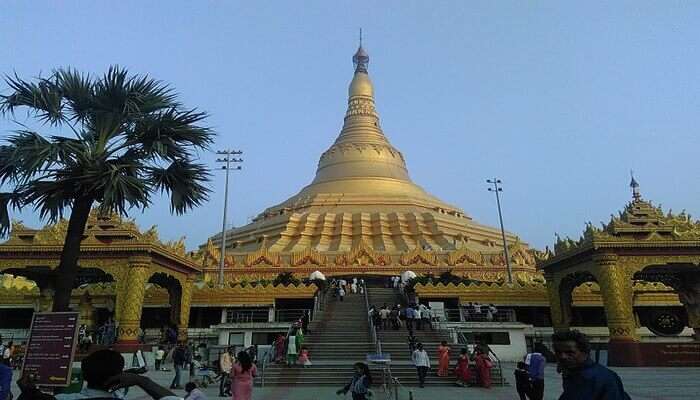 Vipassana centre is one of the tourist places to visit in Igatpuri that is known to offer teachings of Buddha to those who seek spirituality and inner peace. The centre was founded by S. N. Goenka, and is a mutt that offers meditation courses. The entrance of the Vipassana centre houses a large golden pagoda. This also marks a landmark for Igatpuri. This centre is visited by a large number of visitors not only from India but also from the rest of the world.
Location: Dhamma Giri, Dist, Igatpuri, Maharashtra 422403
Timings: 10:00 am to 5:00 pm
Suggested Read: 11 Finest Places To Visit In Lonavala In Rainy Season In 2020
4. Bhatsa River Valley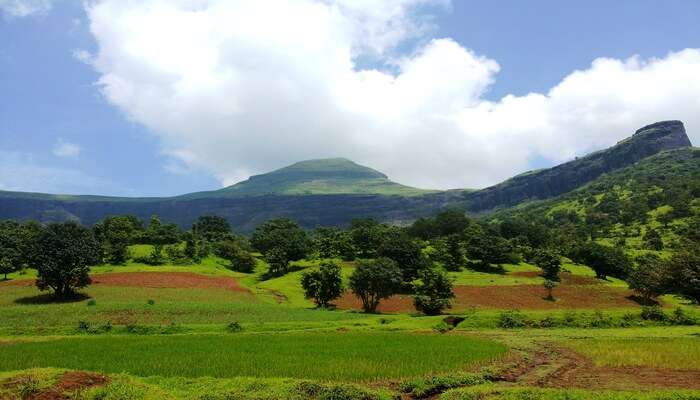 Bhatsa River valley is one of the most famous places to visit in Igatpuri and is known for offering panoramic views of the river, surrounding plains and majestic hills. This place is nothing less than a paradise with the whole place full of lush greenery and during the rainy season the whole place comes alive with waterfalls and misty fog that blankets the whole place. Lying in the basin of the majestic Bhatsa River it is rich in picturesque vegetation and beautiful rock formations.
Location: Bhatsa River, Maharashtra
Timings: throughout the day
Suggested Read: 6 Best Places For Water Sports In Maharashtra You Must Experience In 2020!
5. Camel Valley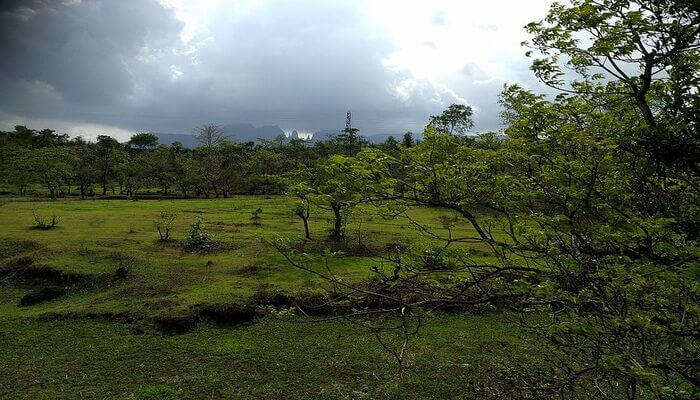 Camel Valley is one of the most beautiful and popular tourist places in Igatpuri. It lies nearby to Bhatsa River valley and is one of the main attractions when travelling in Igatpuri. The waterfalls here are quite an attraction that is hard to miss because it's not one but five waterfalls that fall from a single source. Visit this valley and experience the extraordinary waterfalls. This is definitely one of the best places to see in Igatpuri.
Location: Awal Khed, Maharashtra 421602
Timings: throughout the day
Suggested Read: 18 Absolutely Breathtaking Places To Visit In Monsoon In Maharashtra In 2020
6. Ghatandevi Temple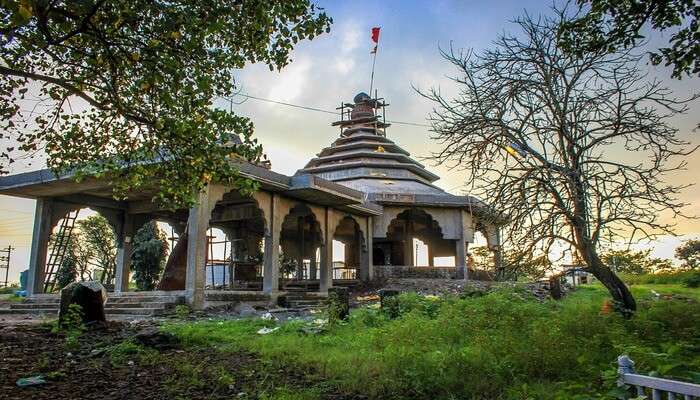 Ghatandevi Temple is one of the important pilgrimage sites in Igatpuri and is located close to Igatpuri Railway Station. Ghatandevi, the god whom this temple is dedicated to, is believed to be the protector of the ghats. The temple is located in a gorgeous valley and is said to be an eye-catching spectacle. The ambience of the shrine is tranquil and serene and instills a sense of faith in devotees.
Location: Awal Khed, Maharashtra 422402
Timings: NA
Suggested Read: The Staircase Waterfall In Maharashtra: A Hidden Gem That We Bet You'd Love To Explore!
7. Kulanggad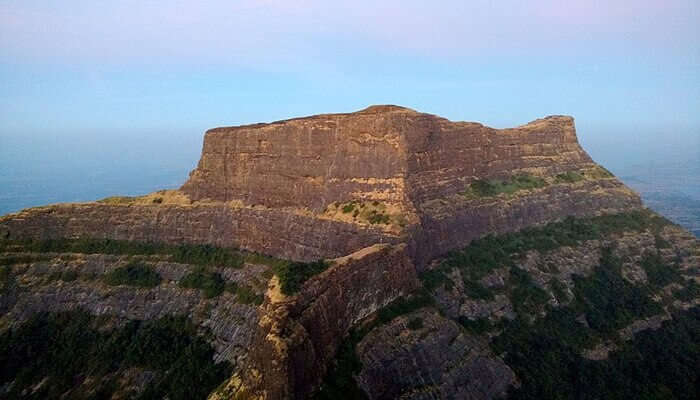 Kulanggad, one of the best places to visit in Igatpuri, is a fort hill in Maharashtra which is also known as the highest fort in the state. The summit of the fort rises to an elevation of 4800 feet and presents a scenic view of the other surrounding peaks. Some of the peaks that are visible from here are Kalusbai, Dhakoba, and Naneghat. The fort still has remnants of various rooms some of which looks like they used to be store rooms. Towards the entrance of the fort there is a large cave, and you can also witness large water tanks and water cisterns. To ascend the fort, one has to go through the steps that are carved into the rocks.
Location: Kurungwadi, Maharashtra 422604
Timings: throughout the day
Suggested Read: Top 10 Restaurants In Maharashtra For Tasting The Best Foods Of This Indian State
8. Bitangad Trek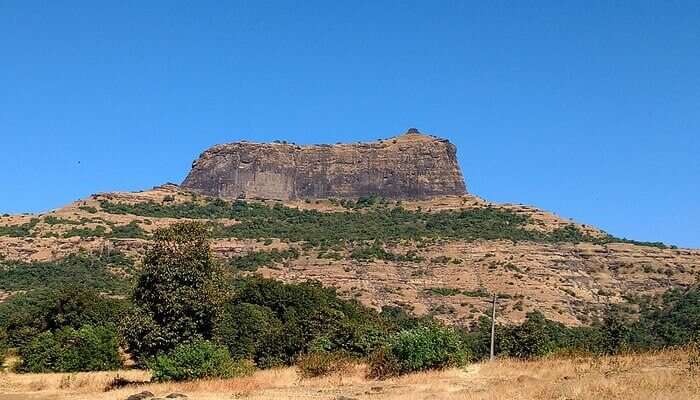 Igatpuri is famous for its treks making it one of the best places to visit in Igatpuri. One of the treks in Igatpuri is Bitangad Trek. Bitangad is one of the hill forts in the district of Nasik in Maharashtra. The fort rises to an elevation of 3,500 feet from the ground. The summit of the hill is small and not much to see, but the views from the top are exceptionally mesmerizing. The plateau at the top is covered with green dense vegetation and offers an amazing view of the Kalsubai range.
Location: Bitangad, Maharashtra
Timings: throughout the day
Suggested Read: 15 Best Hill Stations In Maharashtra That'll Leave You Speechless On Your Next Trip In 2019
9. Sandhan Valley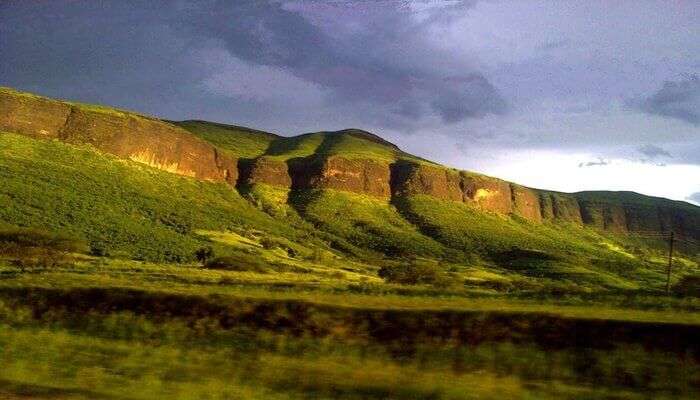 Sandhan Valley is known as Maharashtra's Grand Canyon and is a beautiful amalgamation of a canyon and a valley and is located near the Bhandardara region. The valley is one of the best places to visit in Igatpuri and is an ideal location for adventure enthusiasts. This place offers an amazing location to anyone who wants to step out of their daily routines and their urban life. But this is a trek that is not for the faint of heart. It is one of the most challenging treks. Sandhan Valley is approximately 2kms long and is locally known as the "The Valley of Shadows". Some of the mountain ranges that surround the valley are Alang, Madan, Kulang, Ajoba, and Ratangad.
Location: Sandhan Valley, Maharashtra
Timings: throughout the day
Suggested Read: 18 Forts In Maharashtra That Will Let You Experience Its Rich Heritage In 2020
10. Vihigaon (Ashoka) Waterfall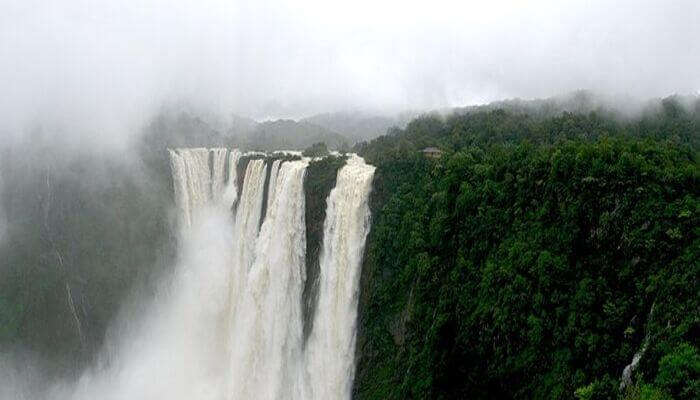 One of the most refreshing places to visit in Igatpuri for a weekend getaway is the Vihigaon Waterfall. It is the perfect place to be if you want to be in the lap of nature. The waterfall is known for its timeless beauty. There is a 120 feet fall that can be engaged in rappelling for about 30 mins.
Location: Vihigaon, Maharashtra 421602
Timings: 9:00 am to 5:00 pm
11. Vaitarna Dam
Image Credit: Hmp12475 for Wikimedia Commons
Built over Vaitarna River, this is one of the major attractions in Igatpuri that can be visited when you are looking for the perfect picnic spots. Constructed in the early 1950s, this dam is considered to be the main source of water as well as electricity to the residents living in the prominent parts of the city of Mumbai. You are definitely going to love the location of this dam, as it enveloped within the awe-striking Western Ghats.
Location: at a distance of 28 kilometers from Igatpuri Railway Station
Timings: 9:00 am to 4:00 pm
12. Amruteshwar Temple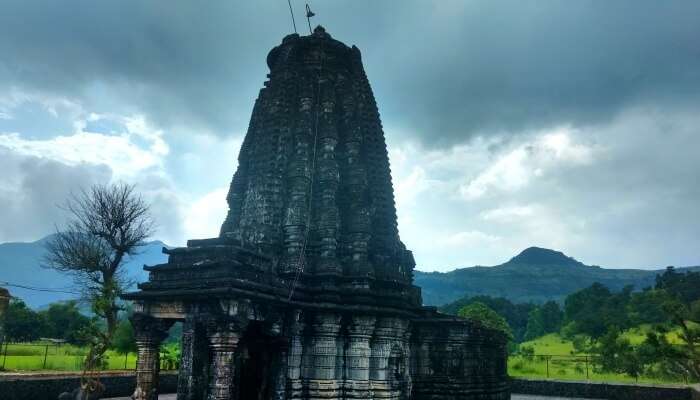 Image Credit: Chetan Kashinath Rathod for Wikimedia Commons
When looking for some of the most beautiful religious places to see in Igatpuri, then this can be the best attraction. The temple was built during the 9th Century AD by Shilahara Dynasty rulers. The architecture of this temple is quite beautiful and something worth beholding. Dedicated to Lord Shiva, the devotees visit this temple in huge numbers throughout the year.
Location: near Bhandardara, Maharashtra 422604
Timings: throughout the day
13. Darna Dam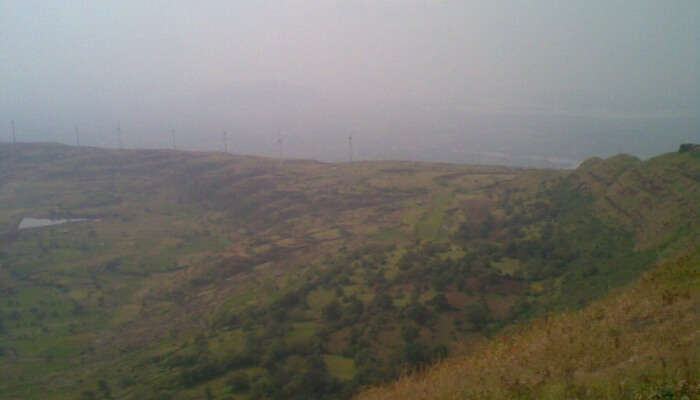 Image Credit: pankajshirke for Wikimedia Commons
This is another dam that can be visited by those looking for some of the best picnic spots. You can come here for a peaceful quality time with family or friends. The dam was built by the British Government in the year 1916. Built over Darna River, this dam is located just a few miles away from Igatpuri. The surroundings will simply leave you awestruck.
Location: National Highway between Nasik and Mumbai
Timings: throughout the day
14. Talegaon Lake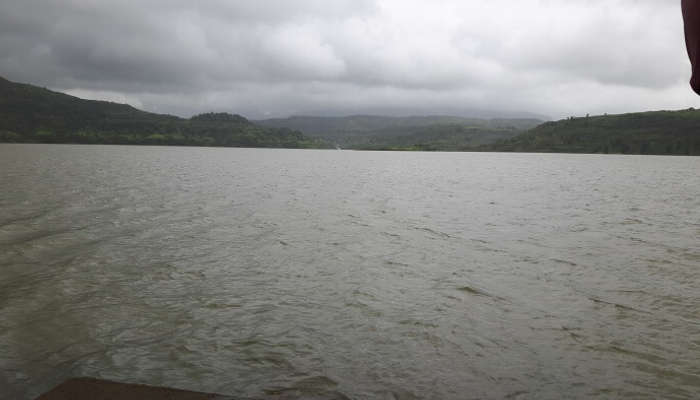 Image Credit: Sailee5 for Wikimedia Commons
A picturesque setting that will leave you all mesmerised. This is the best spot you can visit for a breezy evening stroll. You can come here alone or with friends or family – your visit will be equally amazing owing to the beautiful location. The vast lake makes for breathtaking scenery. When looking for some of the most peaceful places to visit in Igatpuri, this is where you should come.
Location: Igatpuri, Maharashtra
Timings: throughout the day
Further Read: Places To Visit In Maharashtra In Summer 2020: Top 12 Sites For A Cool Vacation!
So, these are some of the best places to visit in Igatpuri. These places are known for their rich cultural, religion, and historical past. These places cannot be missed when travelling in Igatpuri. Plan a trip to Igatpuri today and explore these beautiful places.
Disclaimer: TravelTriangle claims no credit for images featured on our blog site unless otherwise noted. All visual content is copyrighted to its respectful owners. We try to link back to original sources whenever possible. If you own rights to any of the images and do not wish them to appear on TravelTriangle, please contact us and they will be promptly removed. We believe in providing proper attribution to the original author, artist or photographer.
Frequently Asked Questions About Places To Visit In Igatpuri
What is the actual location of Igatpuri?
Considered to be one of the offbeat places in the country, Igatpuri is a quaint little town in the state of Maharashtra. A small hill station nestled in the Western Ghats, Igatpuri is actually located in the district of Nashik.
What is Igatpuri famous for?
Surrounded by all the peace and quiet one needs on a vacation, it would only be right to say that Igatpuri is famous for the calm it offers through an age-old technique of Vipassana. It is an ancient tool of meditation that is practiced at Vipassana International Academy.
What is the best time to visit Igatpuri?
Although Igatpuri enjoys a moderate temperature throughout the year, the best time to visit this hill station would be from the months of June to March. The place looks really refreshing during the monsoon season.
What is the best way to reach Igatpuri?
Although Igatpuri is well-connected to all the major cities via all modes of transportation, the best way to reach Igatpuri is via road. The hill station is just 130 kilometers away from Mumbai and can be a very beautiful journey to embark on via road. For those who would like to travel via train, Igatpuri has its own railway station that is well connected to Mumbai.
What are the must-visit attractions in Igatpuri?
Bhatsa River Valley, Tringalwadi Fort, Ghatandevi Temple, Camel Valley, Kalsubai Peak, and Vipassana Centre are some of the must-visit attractions in Igatpuri that are not to be missed by all the travelers.
How many days are enough to explore Igatpuri?
Igatpuri is basically a weekend kind of a destination that can be explored easily in a day too. However, for those who would like to explore the place at their own convenience, a maximum of two days would be more than enough to explore the hill station of Igatpuri.
Is it safe to visit Igatpuri?
Yes, it is absolutely safe to visit Igatpuri with friends, and family.
Comments
comments
translate,google translate,tradutor,переводчик,traduction,google traduction,google tradutor,traduttore,,Apple, Google, Wal-Mart, IBM,GE,Coca-ColaVerizonAT&T,zillow,netflix,meowingtons,pch publishers clearing,filly fare,colourpop,,julie's freebies,amazon prime video,boohoo.com,zaful,walmart,real country ladies,adt,stephan speaks relationships,acidmath,inner light media,burn 20,campbell's,falken tyres,adobe video,dhgate,cricut the offcial,,,,youtube,facebook,amazon,gmail,google,yahoo,yahoo mail,weather,netflix,walmart,ebay,google translate,home depot,usps tracking,translate,craigslist,fox news,google docs,news,google maps,google classroom,roblox,cnn,lowes,calculator,amazon prime,paypal,speed test,hotmail,target,google drive,msn,instagram,zillow,twitter,best buy,aol mail,bank of america,wells fargo,maps,hulu,discord,ups tracking,trump,traductor,costco,reddit,indeed,disney plus,you tube,usps,pinterest,thank you coronavirus helpers,espn,etsy,linkedin,facebook login,twitch,doodle for google,nfl,dow jones,fedex tracking,capital one,chase,aol,kohls,dominos,airbnb,nba,harbor freight,spotify,bing,internet speed test,womens world cup 2019,wayfair,nfl scores,outlook,you,walgreens,finance,entertainment,solitaire,pizza hut,google flights,crestaurants near me,menards,youtube to mp3,macys,google news,xfinity,face,turbotax,amazon prime video,pandora,timer,yahoo finance,zoom,sports,verizon,,zaful,nitto tyres,c ufc fight pass,nikon instruments,skrewball whiskey,cameo,stremlabs,watkins,netbase quid,cswig life,sonubaits,visiting angels, JOY CHO / OH JOY!,MARYANN RIZZO,MASHABLE,PEUGEOT PANAMA,SALESFORCE,LONELY PLANET,,#translate,#google translate,#tradutor,#переводчик,#traduction,#google traduction,#google tradutor,#traduttore,c#Apple,# Google,# Wal-Mart,# IBM,#GE,cVerizon,AT&T,#zillow,#netflix,#meowingtons,c#filly fare,#colourpop,#,#julie's freebies,#amazon prime video,c#zaful,#walmart,#real country ladies,#adt,#stephan speaks relationships,c#inner light media,#burn 20,#campbell's,#falken tyres,#adobe video,c#cricut the offcial,#,#,#,#youtube,c#amazon,#gmail,#google,#yahoo,#yahoo mail,c#netflix,#walmart,#ebay,#google translate,#home depot,c#translate,#craigslist,#fox news,#google docs,#news,c#google classroom,#roblox,#cnn,#lowes,#calculator,c#paypal,#speed test,#hotmail,#target,#google drive,c#instagram,#zillow,#twitter,#best buy,#aol mail,c#wells fargo,#maps,#hulu,#discord,#ups tracking,c#traductor,#costco,#reddit,#indeed,#disney plus,c#usps,#pinterest,#thank you coronavirus helpers,#espn,#etsy,c#facebook login,#twitch,#doodle for google,#nfl,#dow jones,c#capital one,#chase,#aol,#kohls,#dominos,c#nba,#harbor freight,#spotify,#bing,#internet speed test,c#wayfair,#nfl scores,#outlook,#you,#walgreens,c#entertainment,#solitaire,#pizza hut,#google flights,#google scholar,c#menards,#youtube to mp3,#macys,#google news,#xfinity,c#turbotax,#amazon prime video,#pandora,#timer,#yahoo finance,c#sports,#verizon,#,#zaful,#nitto tyres,c# ufc fight pass,#nikon instruments,#skrewball whiskey,#cameo,#stremlabs,c#netbase quid,#petlab co,#swig life,#sonubaits,#visiting angels,c#MARYANN RIZZO,#MASHABLE,#PEUGEOT PANAMA,#SALESFORCE,#LONELY PLANET,AFFILIATES DISCLAIMERDISCLAIMERWEBSITE DISCLAIMERThe information provided https://varor.in/ and our mobile application is for general informational purposes only. All information on the Site and our mobile application is provided in good faith, however we make no representation or warranty of any kind, express or implied, regarding the accuracy, adequacy, validity, reliability, availability or completeness of any information on the Site or our mobile application. UNDER NO CIRCUMSTANCE SHALL WE HAVE ANY LIABILITY TO YOU FOR ANY LOSS OR DAMAGE OF ANY KIND INCURRED AS A RESULT OF THE USE OF THE SITE OR OUR MOBILE APPLICATION OR RELIANCE ON ANY INFORMATION PROVIDED ON THE SITE AND OUR MOBILE APPLICATION. YOUR USE OF THE SITE AND OUR MOBILE APPLICATION AND YOUR RELIANCE ON ANY INFORMATION ON THE SITE AND OUR MOBILE APPLICATION IS SOLELY AT YOUR OWN RISK.EXTERNAL LINKS DISCLAIMERThe Site and our mobile application may contain (or you may be sent through the Site or our mobile application) links to other websites or content belonging to or originating from third parties or links to websites and features in banners or other advertising. Such external links are not investigated, monitored, or checked for accuracy, adequacy, validity, reliability, availability or completeness by us. WE DO NOT WARRANT, ENDORSE, GUARANTEE, OR ASSUME RESPONSIBILITY FOR THE ACCURACY OR RELIABILITY OF ANY INFORMATION OFFERED BY THIRD-PARTY WEBSITES LINKED THROUGH THE SITE OR ANY WEBSITE OR FEATURE LINKED IN ANY BANNER OR OTHER ADVERTISING. WE WILL NOT BE A PARTY TO OR IN ANY WAY BE RESPONSIBLE FOR MONITORING ANY TRANSACTION BETWEEN YOU AND THIRD-PARTY PROVIDERS OF PRODUCTS OR SERVICES.PROFESSIONAL DISCLAIMERThe Site cannot and does not contain blogger advice. The blogger information is provided for general informational and educational purposes only and is not a substitute for professional advice. Accordingly, before taking any actions based upon such information, we encourage you to consult with the appropriate professionals. We do not provide any kind of blogger advice. THE USE OR RELIANCE OF ANY INFORMATION CONTAINED ON THIS SITE OR OUR MOBILE APPLICATION IS SOLELY AT YOUR OWN RISK.AFFILIATES DISCLAIMERThe Site and our mobile application may contain links to affiliate websites, and we receive an affiliate commission for any purchases made by you on the affiliate website using such links. Our affiliates include the following:ClickbankCJ Affiliate by ConversantMaxBountyShareASaledigisotre24semrushwarriour plusclickbankTESTIMONIALS DISCLAIMERThe Site may contain testimonials by users of our products and/or services. These testimonials reflect the real-life experiences and opinions of such users. However, the experiences are personal to those particular users, and may not necessarily be representative of all users of our products and/or services. We do not claim, and you should not assume, that all users will have the same experiences. YOUR INDIVIDUAL RESULTS MAY VARY. The testimonials on the Site are submitted in various forms such as text, audio and/or video, and are reviewed by us before being posted. They appear on the Site verbatim as given by the users, except for the correction of grammar or typing errors. Some testimonials may have been shortened for the sake of brevity where the full testimonial contained extraneous information not relevant to the general public.The views and opinions contained in the testimonials belong solely to the individual user and do not reflect our views and opinions. We are not affiliated with users who provide testimonials, and users are not paid or otherwise compensated for their testimonials.