23 Awesome Things To Do In Jaipur | Jaipur Weekend Itinerary
Jaipur is an incredibly colorful & diverse city in India and if you love photography you are in for a treat in this city. I have been to Jaipur more than 8 times in my life but I never get bored of this beautiful place. The Pink city – Jaipur, has an abundance of palaces & forts, rich history, marvelous architecture, delicious Rajasthani food and endless opportunities to take pictures. Need I say more to convince you how unique this place is? Read further and plan your weekend itinerary in Jaipur.
The city of Jaipur was founded in the year 1727 by Maharaja Jai Singh II. The old part of the city has neat and broadly laid out roads and is painted all over in pink thus deriving the name of Jaipur as the "Pink City". Maharaja Jai Singh built the city of Jaipur (city of victory) moving his capital from Amber to house the growing population and address the concerns of water scarcity. Since then the city has grown in size and although only old parts of the city are Pink – it is still referred to as the Pink City. It was India's first planned city and is very well known for many forts and gates that were erected during the rule of the Rajputs in the 18th century.
The best time to visit Jaipur is during the winter months (Nov to Feb) when the weather is cold but this is also the time the city is most crowded. If you want to avoid the rush, I would suggest visiting in the slightly warmer (but still pleasant) months of Sep-Oct or Mar-Apr.
So without any further delay, let's start planning your weekend itinerary with the best places to visit in Jaipur.
#1 Hawa Mahal
Hawa Mahal (or the palace of winds) is located in the centre of the pink city and is one of the most visited landmarks of Jaipur. The palace of winds is named so because of the 953 windows (or Jharokas) the main purpose of which was to help Rajput women catch glimpses of the city. The windows are decorated with intricate designs and looking through the windows you can look down onto the streets of the old city. There is also a small museum in the complex that you can visit which has paintings and old artefacts depicting Rajasthani culture.
No weekend itinerary to Jaipur is complete without a visit to the Hawa Mahal. This is my favourite place in the city. You can get really good pictures clicked and you can explore the fort in its entirety as almost all areas are accessible to the public. For an incredible view of Hawa Mahal and even better Instagram clicks – head over to either Wind View café or Tattoo café & lounge across the street.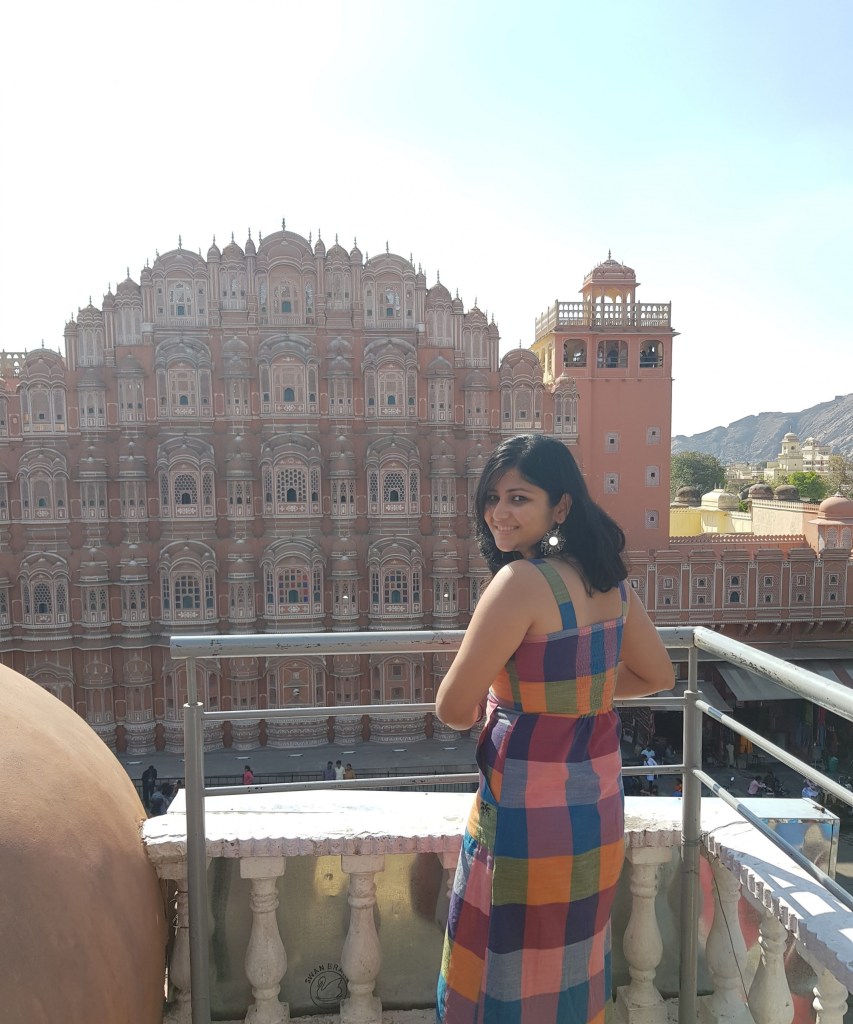 #2 City Palace
The City Palace of Jaipur was built in 1729 and took 3 years to build in the city center. It is located very close to the Hawa Mahal and Jantar Mantar. The monument paints a great picture of the rich culture of the time and is one of the best places to visit in Jaipur.
Chandra Mahal – one half of the palace – still houses the Jaipur royal family. There are various sections to the palace including Diwan-I-Aam, Diwan-I-Khas, Mubarak Mahal, Chandra Mahal, Maharani Palace and much more. The architecture of the palace has influences of Rajput, European and Islamic styles. The palace has now been converted into a Museum which is open to the public.
#3 Jantar Mantar

Jantar Mantar is an astronomical observatory located near the city centre. It was constructed by Maharaja Sawai Jai Singh II and he built 5 such observatories across the country – Delhi, Jaipur, Varanasi, Ujjain and Mathura (now in ruins). The one in Jaipur is the largest and includes stone structures that help interpret the position of celestial bodies and calculate time. Jantar Mantar is a UNESCO heritage site and attracts all types of mathematicians, geographers, historians and architects.
#4 Zorawar Singh Gate (Dhruv Pol)
Dhruv Pol is the northernmost gate of the walled city and is named after the Dhruv Tara (Pole Star) which marks the north direction. It is the widest of all the gates that surround the walled city.
#5 Ajmeri Gate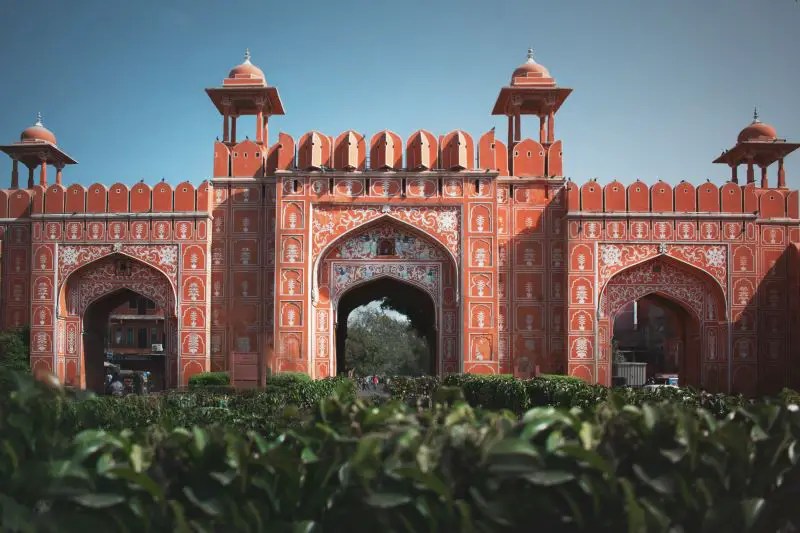 Ajmeri Gate is the southernmost gate of the walled city and is named so as the roads lead onto Ajmer.
The names of the other gates around the walled city are – Suraj Pol, Chand Pol, Ram Pol, Shiv Pol, Ganga Pol, Naya Pol, Sireh Deori Gate, Tripolia Gate, Naqqarkahne ka Darwaza, Rajendra Pol, Ganesh Pol and Ridhisidhi Pol.
#6 Jal Mahal
This beautiful monument, situated right in the middle of Man Sagar Lake surrounded by the Aravalli hills range, was built in 1799 by Sawai Pratap Singh. When you look at Jal Mahal (Water Palace) – it seems it has only 1 floor but actually there are four secret floors beneath the water surface. The original structure was not submerged in water but was constructed for the royalty to hunt in the area. The submergence took place later when the King of Amer decided to build a dam between the surroundings hills to prevent flooding.

You can reach Jal Mahal using boats that also match the building design. With the well-preserved paintings in the halls, beautiful intricate designs and amazing terrace – Jal Mahal should be on your list of places to visit.
#7 Patrika Gate
Patrika Gate is my favourite destination to grab Instagram worthy pictures in Jaipur. The vibrant colours, perfect symmetry and intricate details of the gate really catch the eye and make for amazing pictures.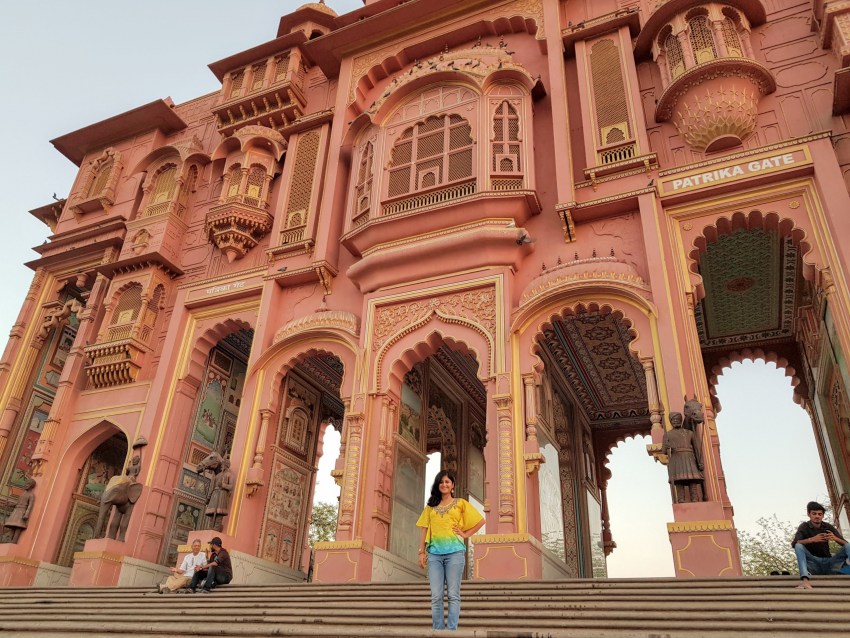 We visited here in the evening and the place was filled with people posing alongside the different pillars. In addition to getting your picture taken, you can also go to Jawahar Circle Garden and have a relaxing time – either walking along the pathways or having a picnic.
#8 Amer Fort
Amer Fort is part of a series of hill forts near Jaipur – about 11km away. It was originally built by the Meenas and later was ruled by Raja Man Singh (1550-1614). It is decorated with intricate designing of various Hindu elements with typical Rajasthani architecture elements like gates.
The main places to see inside the fort are the Diwan-i-Aam (Hall of public audience), the Diwan-i-Khas (Hall of private audience, the Sheesh Mahal (mirror palace) and Sukh Niwas that houses a waterfall in the royal palace.
There is ample parking space available at the fort and you can take your car up the hill to reach Amer Fort. You can explore the fort for hours and hours as a lot of it has been maintained and is open to the public. The views from the fort are magnificent and this should definitely be on your list when you visit Jaipur.
#9 Panna Meena ka Kund

This is a beautiful ancient marvel – almost 450 years old near the Amer Fort. The stepwell was used in the 16th Century by devotees from a nearby temple as a place to relax. It is a good site to just sit, relax and converse with the locals about your travels. At least that's what I did!
#10 Nahargarh Fort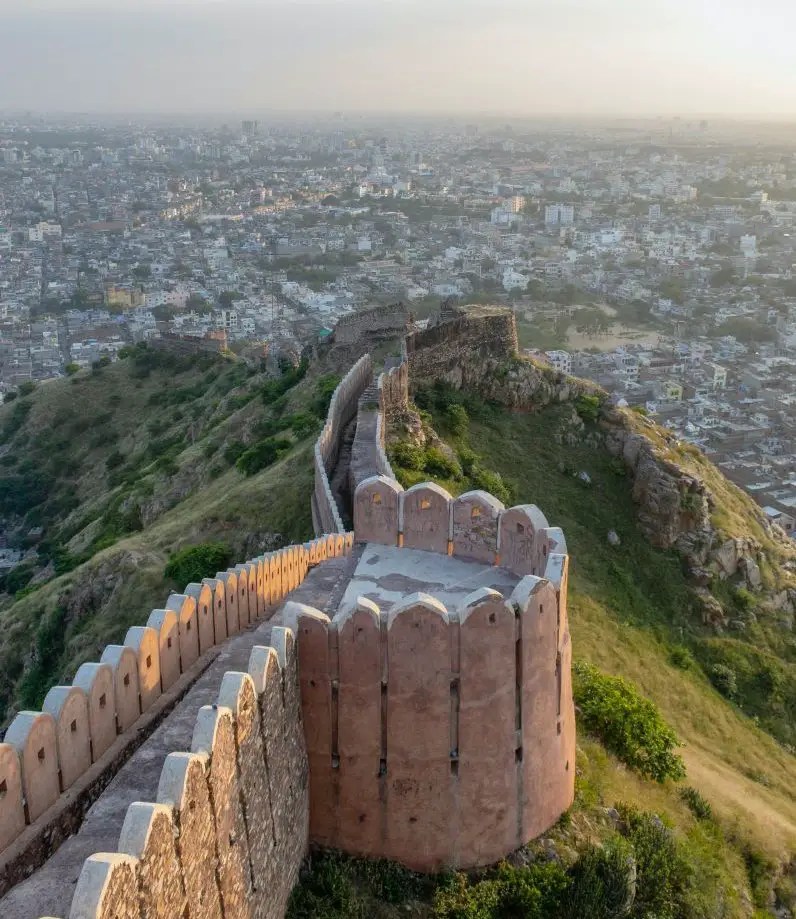 Along with Amer and Jaigarh Fort, Nahargarh Fort used to form the defence for the then capital city. The fort was built 1734 by Maharaja Sawai Jai Singh. Nahargarh (the abode of tigers) was named after the spirit of Rathore Nahar Singh. An interesting piece of trivia told to me by the local guide was that when the construction of the fort had started, every morning the workers found the previous day's worked destroyed. Maharaja Jai Singh felt that the site was haunted and constructed a shrine where the haunted spirit could reside.
In present day, there is a food court at the top of the fort with an excellent view of the Aravalli hills. You can also visit Jaipur wax Museum and Sheesh Mahal.
#11 Gaitore ki Chhatriyan

Located in the foothills of Nahargarh fort, this is a complex of beautiful temples and tombs. It used to be the royal crematorium for the rulers of Rajasthan and the complex is filled with engravings of Maharajas buried here. This place is a must-visit along with the Nahargarh fort.
#12 Jaigarh Fort
This is the third fort to visit along with Nahargarh and Amer Fort in the Aravalli hills. It was primarily built to protect Amer Fort and is famous for the largest cannon on wheels at the time (in 1720) called Jaivana. The fort was built in 1726 by Maharaja Sawai Jai Singh and offers panoramic views of the Aravalli hills. It is considered as the strongest monument of Jaipur and was the storehouse of all types of war ammunition.
#13 Chokhi Dhani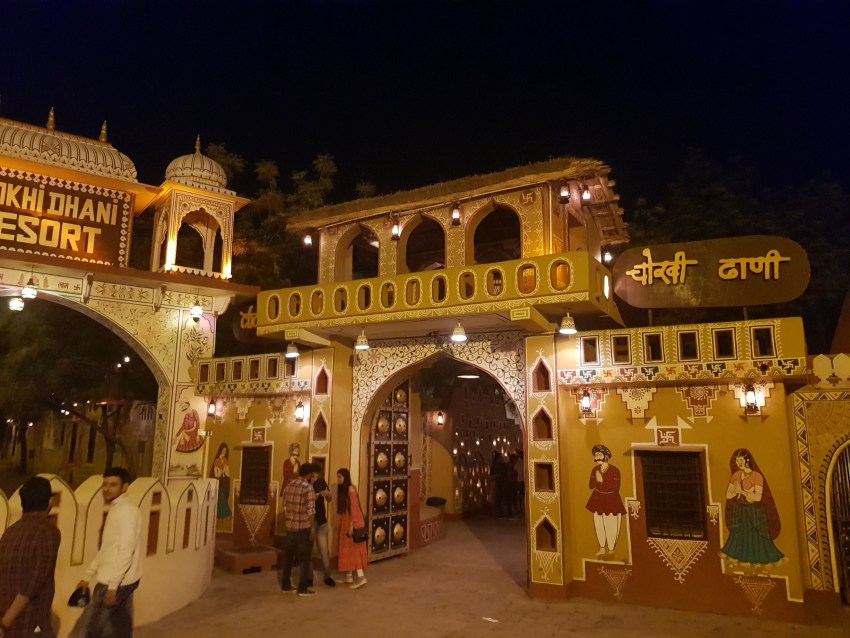 Looking to catch genuine Rajasthani feel? Visit Chokhi Dhani for a wonderful evening. Taste the famous Rajasthani Thali fed to you in traditional Rajasthani style whilst sitting on the floor and wearing a turban. You will have plenty on your plate – Trust me!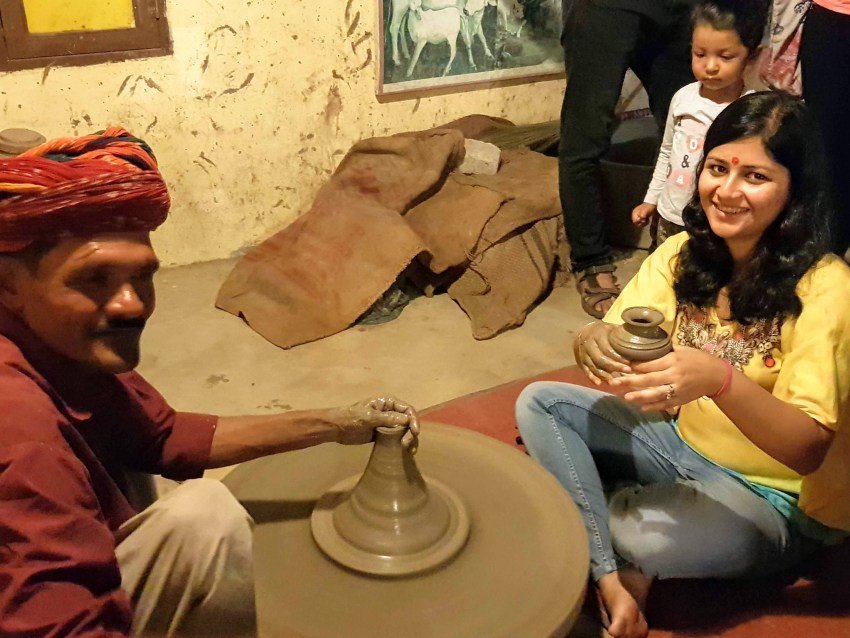 There are different shows going on – magic shows, puppet shows and traditional dance performances. You can go for a camel ride, elephant ride, try your hand at pottery and taste freshly made Bajra Roti. You can shop for genuine Rajasthani artifacts and food items if you're looking to shop. Chokhi Dhani is also a good place to stay but it is a bit on the expensive side.
#14 Galtaji Temple/
Galtaji Temple is a Hindu temple located near Jaipur (around 10 km). Also known as the Monkey temple- it is home to a large colony of monkeys who playfully jump around this large complex. The temple is unique as it has been constructed around a natural spring which gets channeled to make seven large pools. These waters are considered holy and devotees bathe in them to wash away their sins.
#15 Albert Hall Museum

This is considered one of the finest galleries of Jaipur and it is also proof that you can visit Jaipur multiple times and yet miss things (Yes! I have not been here). The museum was designed by Colonel Sir Swinton Jacob in 1887 and contains more than 24,000 exhibits. The museum complex itself borrows from Indo-Saracenic architecture with beautiful pillars, arches and courtyards.
Places to Shop in Jaipur
#16 Bapu Bazaar
Want to take home some Rajasthani products? Bapu Bazaar is the place to be. You will find genuine yet inexpensive products right in the city center- from textiles, perfumes, sarees, quilts, food products and much more.
Tip – Do not agree to the first price set by the shopkeeper. Always bargain and you will see those prices drop!
#17 Johri Bazaar

Must visit for the shopaholic in you! Located centrally near the Hawa Mahal, this place houses the most beautiful collections of jewelry to choose from. You can also find great artefacts here to purchase and take a piece of Rajasthan home with you.
Must-Eat Foods in Jaipur
#18 Pyaaz ki Kachori at Rawat Mishtan Bhandar
If you're a foodie like me, you must add Rawat Mishthan Bhandar to your Jaipur weekend itinerary. When visiting Jaipur – a must-eat is the famous Pyaaz ki Kachori (Onion Kachori). They also have sweets and other savory snacks such as Mirchi-Vada, Dal Kachori and Samosa that you can try too.
#19 Mouth-watering Chat at Masala Chowk Food Court
This is a relatively new place where you can go and enjoy multiple cuisines. They have have different street food options like Gol Gappe, Chole Bhature and Jalebi and also South India options like Idli, Dosa and Uttapam.
#20 Pav Bhaji at Pandits
Pav Bhaji is a famous delicacy from the streets of Mumbai. But you can still get mouth-watering helpings of it in Jaipur. Head over to the Pandit's stall near Birla Mandir and give your taste buds a treat. The food is fresh and is available at a very reasonable price.

#21 Lassi at Lassiwala
Lassiwala is very popular for its Lassi (famous yogurt-based drink) amongst the locals in Jaipur. They serve the Lassi in traditional earthen pots which adds to the flavor. Reach a bit early though, I missed the Lassi here for two days straight when I reached after 4pm.
#22 Sweets & Snacks at Laxmi Mishtan Bhandar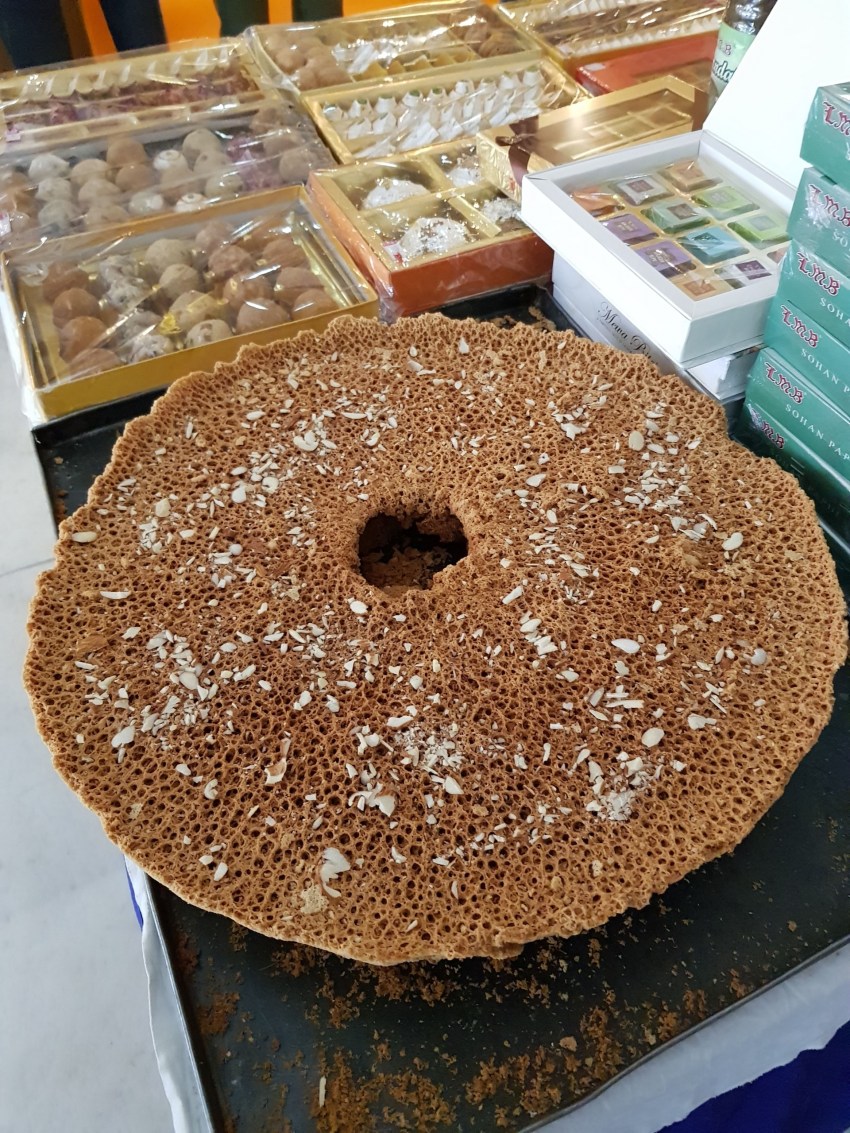 This is one of my favorite places to eat in Jaipur. Must have had lunch here more than 10 times. I love the way this place never disappoints. (Also that it is centrally located and I invariably find myself near this place during lunch hours) Try out the different sweets on offer like Phirni, Milk cake, Dhoda, Ghewar and Balushahi. You can try out chats, the pyaaz kachori and the special Rajasthani Thali as well if you are in the mood to eat lavishly.
#23 Bapu Bazaar Kulfi Faluda
If you've never tasted Kulfi Faluda, you really are missing out! One of the most refreshing dessert to have to beat the heat of Jaipur. Shop No 28 on Link Road in Bapu Bazaar is the best place to enjoy Kulfi Faluda in Jaipur. You will not regret it!
Pheww!! That's a long list and I am sure there are still many more things to do if you go outside of the city. I hope this helps you plan your weekend itinerary for Jaipur. Do let me know in the comments if and when you visit 😊
Want to explore Rajasthan further? Then check out Rajasthan Road Trip from Delhi : Ultimate 10 Day Itinerary
Pin for later:
Related
translate,google translate,tradutor,переводчик,traduction,google traduction,google tradutor,traduttore,,Apple, Google, Wal-Mart, IBM,GE,Coca-ColaVerizonAT&T,zillow,netflix,meowingtons,pch publishers clearing,filly fare,colourpop,,julie's freebies,amazon prime video,boohoo.com,zaful,walmart,real country ladies,adt,stephan speaks relationships,acidmath,inner light media,burn 20,campbell's,falken tyres,adobe video,dhgate,cricut the offcial,,,,youtube,facebook,amazon,gmail,google,yahoo,yahoo mail,weather,netflix,walmart,ebay,google translate,home depot,usps tracking,translate,craigslist,fox news,google docs,news,google maps,google classroom,roblox,cnn,lowes,calculator,amazon prime,paypal,speed test,hotmail,target,google drive,msn,instagram,zillow,twitter,best buy,aol mail,bank of america,wells fargo,maps,hulu,discord,ups tracking,trump,traductor,costco,reddit,indeed,disney plus,you tube,usps,pinterest,thank you coronavirus helpers,espn,etsy,linkedin,facebook login,twitch,doodle for google,nfl,dow jones,fedex tracking,capital one,chase,aol,kohls,dominos,airbnb,nba,harbor freight,spotify,bing,internet speed test,womens world cup 2019,wayfair,nfl scores,outlook,you,walgreens,finance,entertainment,solitaire,pizza hut,google flights,crestaurants near me,menards,youtube to mp3,macys,google news,xfinity,face,turbotax,amazon prime video,pandora,timer,yahoo finance,zoom,sports,verizon,,zaful,nitto tyres,c ufc fight pass,nikon instruments,skrewball whiskey,cameo,stremlabs,watkins,netbase quid,cswig life,sonubaits,visiting angels, JOY CHO / OH JOY!,MARYANN RIZZO,MASHABLE,PEUGEOT PANAMA,SALESFORCE,LONELY PLANET,,#translate,#google translate,#tradutor,#переводчик,#traduction,#google traduction,#google tradutor,#traduttore,c#Apple,# Google,# Wal-Mart,# IBM,#GE,cVerizon,AT&T,#zillow,#netflix,#meowingtons,c#filly fare,#colourpop,#,#julie's freebies,#amazon prime video,c#zaful,#walmart,#real country ladies,#adt,#stephan speaks relationships,c#inner light media,#burn 20,#campbell's,#falken tyres,#adobe video,c#cricut the offcial,#,#,#,#youtube,c#amazon,#gmail,#google,#yahoo,#yahoo mail,c#netflix,#walmart,#ebay,#google translate,#home depot,c#translate,#craigslist,#fox news,#google docs,#news,c#google classroom,#roblox,#cnn,#lowes,#calculator,c#paypal,#speed test,#hotmail,#target,#google drive,c#instagram,#zillow,#twitter,#best buy,#aol mail,c#wells fargo,#maps,#hulu,#discord,#ups tracking,c#traductor,#costco,#reddit,#indeed,#disney plus,c#usps,#pinterest,#thank you coronavirus helpers,#espn,#etsy,c#facebook login,#twitch,#doodle for google,#nfl,#dow jones,c#capital one,#chase,#aol,#kohls,#dominos,c#nba,#harbor freight,#spotify,#bing,#internet speed test,c#wayfair,#nfl scores,#outlook,#you,#walgreens,c#entertainment,#solitaire,#pizza hut,#google flights,#google scholar,c#menards,#youtube to mp3,#macys,#google news,#xfinity,c#turbotax,#amazon prime video,#pandora,#timer,#yahoo finance,c#sports,#verizon,#,#zaful,#nitto tyres,c# ufc fight pass,#nikon instruments,#skrewball whiskey,#cameo,#stremlabs,c#netbase quid,#petlab co,#swig life,#sonubaits,#visiting angels,c#MARYANN RIZZO,#MASHABLE,#PEUGEOT PANAMA,#SALESFORCE,#LONELY PLANET,AFFILIATES DISCLAIMERDISCLAIMERWEBSITE DISCLAIMERThe information provided https://varor.in/ and our mobile application is for general informational purposes only. All information on the Site and our mobile application is provided in good faith, however we make no representation or warranty of any kind, express or implied, regarding the accuracy, adequacy, validity, reliability, availability or completeness of any information on the Site or our mobile application. UNDER NO CIRCUMSTANCE SHALL WE HAVE ANY LIABILITY TO YOU FOR ANY LOSS OR DAMAGE OF ANY KIND INCURRED AS A RESULT OF THE USE OF THE SITE OR OUR MOBILE APPLICATION OR RELIANCE ON ANY INFORMATION PROVIDED ON THE SITE AND OUR MOBILE APPLICATION. YOUR USE OF THE SITE AND OUR MOBILE APPLICATION AND YOUR RELIANCE ON ANY INFORMATION ON THE SITE AND OUR MOBILE APPLICATION IS SOLELY AT YOUR OWN RISK.EXTERNAL LINKS DISCLAIMERThe Site and our mobile application may contain (or you may be sent through the Site or our mobile application) links to other websites or content belonging to or originating from third parties or links to websites and features in banners or other advertising. Such external links are not investigated, monitored, or checked for accuracy, adequacy, validity, reliability, availability or completeness by us. WE DO NOT WARRANT, ENDORSE, GUARANTEE, OR ASSUME RESPONSIBILITY FOR THE ACCURACY OR RELIABILITY OF ANY INFORMATION OFFERED BY THIRD-PARTY WEBSITES LINKED THROUGH THE SITE OR ANY WEBSITE OR FEATURE LINKED IN ANY BANNER OR OTHER ADVERTISING. WE WILL NOT BE A PARTY TO OR IN ANY WAY BE RESPONSIBLE FOR MONITORING ANY TRANSACTION BETWEEN YOU AND THIRD-PARTY PROVIDERS OF PRODUCTS OR SERVICES.PROFESSIONAL DISCLAIMERThe Site cannot and does not contain blogger advice. The blogger information is provided for general informational and educational purposes only and is not a substitute for professional advice. Accordingly, before taking any actions based upon such information, we encourage you to consult with the appropriate professionals. We do not provide any kind of blogger advice. THE USE OR RELIANCE OF ANY INFORMATION CONTAINED ON THIS SITE OR OUR MOBILE APPLICATION IS SOLELY AT YOUR OWN RISK.AFFILIATES DISCLAIMERThe Site and our mobile application may contain links to affiliate websites, and we receive an affiliate commission for any purchases made by you on the affiliate website using such links. Our affiliates include the following:ClickbankCJ Affiliate by ConversantMaxBountyShareASaledigisotre24semrushwarriour plusclickbankTESTIMONIALS DISCLAIMERThe Site may contain testimonials by users of our products and/or services. These testimonials reflect the real-life experiences and opinions of such users. However, the experiences are personal to those particular users, and may not necessarily be representative of all users of our products and/or services. We do not claim, and you should not assume, that all users will have the same experiences. YOUR INDIVIDUAL RESULTS MAY VARY. The testimonials on the Site are submitted in various forms such as text, audio and/or video, and are reviewed by us before being posted. They appear on the Site verbatim as given by the users, except for the correction of grammar or typing errors. Some testimonials may have been shortened for the sake of brevity where the full testimonial contained extraneous information not relevant to the general public.The views and opinions contained in the testimonials belong solely to the individual user and do not reflect our views and opinions. We are not affiliated with users who provide testimonials, and users are not paid or otherwise compensated for their testimonials.