Agnipath protest LIVE: Violence amid Bihar bandh, railway station burnt
Live
Agnipath scheme protest live updates: The protest against the scheme continued for third day on Friday with Bihar, Uttar Pradesh being the most hit states.
Updated on Jun 18, 2022 01:20 PM IST
Agnipath scheme protest live updates: Violent protests broke out this week in several states over 'Agnipath' – the centre's controversial new armed forces recruitment scheme – as protesters clashed with security forces, torched or vandalised trains and railway stations and blocked railway tracks and highways. A police station in Uttar Pradesh's Aligarh was also torched and the homes of senior BJP figures in Bihar, including deputy chief minister Renu Devi, were attacked. One death was reported from Secuderabad in Telangana, where too the railway station was vandalised, trains were torched and dozens were injured as police fired in the air to disperse crowds. Police in UP fired tear gas at protesters on a major highway and public buses were attacked.
Also Read | Agnipath scheme: What will Agniveers do after 4 yrs of service? Govt shares list
 Protests also erupted in Haryana – where internet services were snapped – Rajasthan, Odisha, Madhya Pradesh – where another railway station was attacked and trains set on fire – and Bengal. Railways officials estimated that hundreds of trains were either cancelled, diverted or terminated before their destination due to the protests. 
Also Read: Agnipath scheme's myths Vs facts as govt explains amid protests
Overall, hundreds have been arrested across various states and a bandh has been called in Bihar. 'Agnipath' has been fiercely criticised by opposition leaders too. The government has defended its policy, explaining that recruits, or 'Agniveers', retiring after four years will be given financial aid. Also, in a nod to protesters' concerns, the government has relaxed the upper age limit from 21 to 23.
Follow all the updates here:
Jun 18, 2022 01:20 PM IST

Situation getting normal again, says Bihar deputy CM on Agnipath protest

Situation is getting normal again. Vandalism & arson incidents are unfortunate. The Centre has made a good scheme for youth, it'll provide them many benefits. We appeal to the people of Bihar to maintain peace, says Deputy CM Tarkishore Prasad on protest against Agnipath scheme

Jun 18, 2022 01:19 PM IST

Need to strengthen Railways Act and we will take action on this, says Railway Minister on damage to trains

The government will take action towards further strengthening the Railways Act to protect the property of the national carrier, Railway Minister Ashwini Vaishnaw Saturday said, as Agnipath protesters disrupted train services in parts of the country and damaged assets.

Jun 18, 2022 01:09 PM IST

Meeting between Rajnath Singh and services chiefs ends: Report

The meeting between Defence Minister Rajnath Singh and the service chiefs, concludes, reports ANI

Jun 18, 2022 01:06 PM IST

Telangana: Over 100 arrested for involvement in violence at Secunderabad railways station

Telanga Police arrested more than 100 protestors accused of involvement in arson at Secunderabad railway station, yesterday. Special teams formed to nab accused, search operation underway. FIR registered by Railway police against protestors who torched vehicles, reports ANI

Jun 18, 2022 01:01 PM IST

Agnipath protests: Eastern Railway cancels 13 trains originating from Bengal

Thirteen trains, including two Shatabdi Express trains, scheduled to leave from Howrah and other stations in West Bengal on Saturday, have been cancelled due to Agnipath protests, railway officials said. Read more

Jun 18, 2022 12:49 PM IST

Bihar: Protesters try to burn Masaurhi railway station on Patna-Gaya route

In Bihar, bandh supporters try to burn Masaurhi railway station on Patna-Gaya route . Partial damage reported to station.  More than a dozen vehicles parked outside Taregana station set on fire besides railway premises including station master cabin and others

Jun 18, 2022 12:47 PM IST

'Roll-back the ill-thought…': AAP MP writes to Rajnath Singh over Agnipath scheme

Aam Aadmi Party's Rajya Sabha MP Raghav Chadha writes letter to defence minister Rajnath Singh demanding rollback of Agnipath recruitment scheme.

Jun 18, 2022 12:43 PM IST

Watch: Protest near War Memorial in Chennai

Protests against Agnipath near War Memorial in Chennai. The protesters were removed by the police and detained. 

Jun 18, 2022 12:40 PM IST

UP: Protesters assemble at Lucknow-Agra Expressway in Kannauj

Anti Agnipath protestors have assembled at Lucknow Agra Expressway near Saurikh in Kannauj. Police are trying to prevent them blocking the highway.

Jun 18, 2022 12:39 PM IST

Bihar: Protesters torch vehicles parked near police outpost in Jehanabad

Violent anti-Agnipath protests continued rocking Bihar for the fourth consecutive day on Saturday, with agitators torching vehicles parked on the premises of a police outpost in Jehanabad district, officials said.

A large number of protestors gathered outside Tehta police outpost around 8.30 AM and started pelting security personnel with stones. Later, they set several vehicles, including a bus and a truck, on fire, they said.

Jun 18, 2022 12:21 PM IST

'Simple assurance from the govt…': Ex-union minister Yashwant Sinha on Agnipath scheme

Former union minister Yashwant Sinha tweets,"Simple assurance from the govt should be that all agneeveers will after 4 years be absorbed in the armed forces and central security forces if they so wish. The number of agneeveers recruited every year shd be fixed accordingly."

Jun 18, 2022 12:10 PM IST

Vandalism incidents resulted in losses worth ₹200 crores, says Indian Railways

"Vandalism incidents in railway premises have led to losses of over Rs.200 crore, 50 coaches & 5 engines completely burnt & went out of service. Platforms, computers & various technical parts damaged. Some trains were cancelled," Prabhat Kumar, DRM, Danapur Rail Division

Jun 18, 2022 12:06 PM IST

8 more trains including those originating from Bihar & Bengal cancelled, says Eastern Railways

"Due to ongoing agitation against #AgnipathScheme in East Central Railway jurisdiction, eight more trains including six originating from different cities of West Bengal and two originating from cities in Bihar have been cancelled today, June 18", CPRO, Eastern Railway said.

Jun 18, 2022 11:52 AM IST

Agnipath protests: Rajnath to meet three services chiefs

Defence minister Rajnath Singh to hold meet with the three services chiefs over the Agnipath scheme. The meeting comes amid violent protests in states like Uttar Pradesh, Bihar, Haryana

Jun 18, 2022 11:46 AM IST

Violence-hit Secunderabad railway station under tight security cover, train services resume

Train services at Secunderabad Railway Station, which witnessed arson and violence resulting in the death of a protester aspiring to join the armed forces, are limping back to normalcy, a senior official of the South Central Railway said on Saturday, PTI reported.

Jun 18, 2022 11:40 AM IST

80 people identified for role in Agnipath violence, says Bihar Police official

"Heavy damage to public property occurred amid protest against #AgnipathScheme. Security forces deployed at crucial spots. Those involved in violence are being identified through video footage. 80 people have been identified so far," says Abhinav Dhiman, ASP, Danapur

Jun 18, 2022 11:34 AM IST

Bihar bandh: Police on high alert, internet services suspended in 12 districts

The Bihar police has sounded high alert in the entire state over the Bihar bandh called by job aspirants on Saturday against the Centre's Agnipath scheme for short-term appointments in the armed forces, officials said adding that internet services have been suspended in 12 out of 38 districts in the state which have been identified as the worst affected ones. Read more

Jun 18, 2022 11:22 AM IST

Delhi Police arrests man for 'instigating' Agnipath protesters in Delhi

The Delhi Police has arrested a man for allegedly making an inflammatory speech and instigating youths protesting against the Agnipath Scheme here, officials said on Saturday, PTI reported. Police said Surender Sharma alias Fauji made the alleged speech Friday morning to a gathering of 50-60 agitators during the protest near the gate of the MCD office in Baba Haridas Nagar.

Jun 18, 2022 11:17 AM IST

Plea filed in Supreme Court seeking SIT probe into violent protests against Agnipath scheme

Plea moved in Supreme Court seeking directions to setup a Special Investigation Team (SIT) to enquire about the violent protests against the #AgnipathRecruitmentScheme launched by the Govt, and to enquire about the damage caused to the public property including that of Railways, reports ANI

Jun 18, 2022 11:13 AM IST

Violence and arson not the solution, says IAF chief on Agnipath protests

"…Resorting to violence&arson is not solution. If they have doubts, there are military stations, Air Force bases, Naval bases around. They can go to them,get their doubts clarified…" IAF chief Vivek Ram Chaudhari tells ANI.

Jun 18, 2022 11:05 AM IST

Cong's Hanumanth Rao slams Centre over Agnipath violence, seeks PM Modi's resignation

"In last eight years 16 crore job has to come, you (Center Government) didn't give that and now in defence, you are making limitation of four years, what will be the situation after four years. After being removed from the defence what work will they get? I don't understand, how come you don't have money for providing permanent jobs to youth in defence. It's a shameful act, Narendra Modi if you are not able to manage then just give your resignation," Cong's Hanumanth Rao tells ANI.

Jun 18, 2022 10:59 AM IST

'Many advantages of Agnipath scheme…': IAF chief on the new defence recruitment policy

"For the IAF in particular, we will benefit from having to select the more technically qualified people for their particular job that they are going to do in future in the Air Force," Indian Air Force Chief Air Chief Marshal Vivek Ram Chaudhari tells news agency ANI. 

Jun 18, 2022 10:55 AM IST

Wrote letter to Rajnath highlighting the concerns of armed forces aspirants, Centre did nothing: Priyanka

Congress general secretary Priyanka Gandhi Vadra has tweeted a screenshot of a letter she wrote to Defence minister Rajnath Singh on March 29, highlighting the anxiousness of the youth aspiring to join the forces. Vadra claimed the government didn't do anything on the issue. 

Jun 18, 2022 10:40 AM IST

Agnipath protest: 2 more trains cancelled

13240 Kota Patna Express and Avadh express cancelled by Railways from initial station in view of ongoing agitation nationwide against Agnipath recruitment scheme for Indian armed forces.

Jun 18, 2022 10:35 AM IST

Centre has to take this back, the way it revoked farm laws: Owaisi on Agnipath scheme

"Agnipath scheme is absolutely wrong decision taken by the Government and it is not good for the country at all. PM Modi thinks that our Navy officers and soldiers are contractual employees or contractual lecturers, but their profession is honourable," AIMIM chief Asaduddin Owaisi told ANI.

Jun 18, 2022 10:29 AM IST

KCR announces ₹25 lakh ex gratia for kin of youth killed in Agnipath protest: Report

Telangana Chief Minister K Chandrashekhar Rao on Friday announced ₹25 lakh ex-gratia to kin of the youth who was allegedly killed in the Railway Police firing while participating in a dharna against the Agnipath army recruitment scheme recently introduced by the Central government.

Jun 18, 2022 10:15 AM IST

'Mafiveer PM will have to take back Agnipath', warns Rahul Gandhi

Congress MP Rahul Gandhi on Saturday continued his attack on the government over the controversial 'Agnipath' armed forces recruitment scheme, this time taking a swipe at 'Mafiveer' prime minister Narendra Modi and warning the government it will be forced to scrap the new military policy in the same way it was forced to withdraw the three farm laws. Read more

Jun 18, 2022 09:55 AM IST

Congress to stage sit in against Agnipath scheme

Congress leaders to stage 'satyagraha' on Sunday at Jantar Mantar in solidarity with the youth protesting against Agnipath Recruitment Scheme. All MPs, CWC members, and AICC office bearers will participate, according to the statement.

Jun 18, 2022 09:43 AM IST

'Deployed security forces at crucial spots'

We have deployed security forces at crucial spots. We appeal to students to protest peacefully. FIR filed against 170 people, 46 arrested for vandalisation at Danapur railway station. Strict action to be taken against those involved in violence, says Chandrashekhar Singh, Patna DM, as per ANI.

Jun 18, 2022 09:42 AM IST

10% reservation for 'Agniveers' in CAPF, Assam Rifles, says centre

Faced with protests over the employability of 'Agniveers' after their four-year tour of duty, the centre has said 10% of jobs in the Central Armed Police Force and Assam Rifles will be reserved for them. The centre has also decided to relax upper age limits for recruitment to these forces for three years; this applies to 'Agniveers' only. In addition, the first batch of 'Agniveers' will benefit from a five-year relaxation of upper age limit, the home ministry said.

Jun 18, 2022 09:35 AM IST

UP Police appeal to protesters

Anand Prakash Tiwari, the joint CP of Kanpur Police, has urged students 'not to indulge' in violence. "All boys associated with such WhatsApp groups (those police say are being used to spread rumours and violence) have been identified. I appeal to all the students not to indulge in any such act," he told ANI, adding, "We will investigate such people who are planning these illegal activities and will take actions against them as per law."

Jun 18, 2022 09:32 AM IST

Students' organisations in Bihar, led by the All India Students' Association, have called a 24-hour Bihar bandh today demanding an immediate rollback of the 'Agnipath' scheme. The bandh has been backed by the opposition Rashtriya Janata Dal, while ex-Bihar chief minister Jitan Ram Manjhi said his Hindustan Awam Morcha-Secular – an ally of the ruling BJP – will also back the bandh.

Jun 18, 2022 09:30 AM IST

Case against protesters in Secunderabad

 

Police have filed a case against anti-'Agnipath' protesters in Telangana's Secunderabad, where one agitator was killed and several others, including cops, injured in the violence. A train was set on fire the Secunderabad Railway Station was damaged in the protests. Protestors also vandalised a TSRTC bus at Secunderabad bus station. Anuradha, a Secunderabad Railway Police official, told news agency ANI: "Around 1500 to 3000 people protested. They held stone-pelting also in which some police personnel got injured."

Jun 18, 2022 09:29 AM IST

6 FIRs, 260 arrests in UP so far

Six FIRs have been registered across four UP districts in connection with violent protests against the 'Agnipath' scheme, news agency ANI reported. 260 people have been arrested so far.

Jun 18, 2022 09:29 AM IST

Protesters try to set bus on fire in UP's Jaunpur

A large mob staged a demonstration against the 'Agnipath' and 'Agniveer' scheme in Sikrara area of Jaunpur this morning. They threw stones and tried to set a bus on fire. A big police force has reached the spot.
Here are today's top news, analysis, and opinion at 1pm. Know all about the latest news and other news updates from Hindustan Times.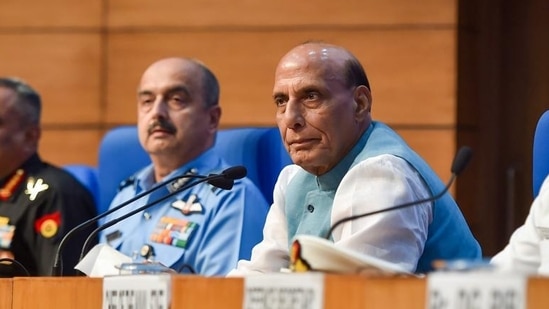 Published on Jun 18, 2022 12:55 PM IST
He recalled several sacrifices made by his mother as he grew up and mentioned various qualities of his mother that shaped his mind, personality, and self-confidence.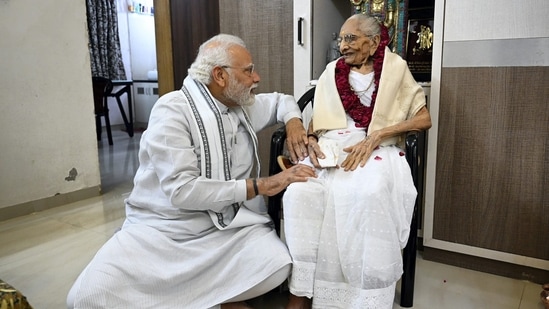 Published on Jun 18, 2022 12:41 PM IST
Agnipath scheme protests: Bihar police have sounded a high alert after calls for a bandh today followed violence yesterday.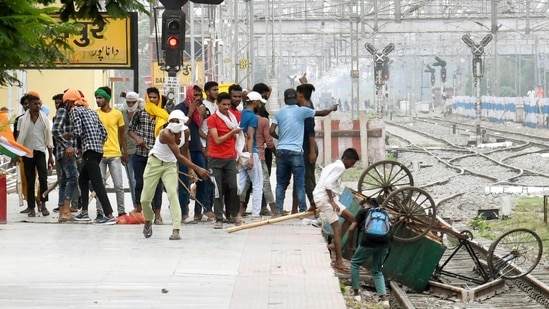 Updated on Jun 18, 2022 12:31 PM IST
The government on Saturday announced a 10% reservation for Agniveers in CAPF and Assam Rifles. Protests against the scheme are going on for the 4th day with AISA calling a 24-hour bandh in Bihar.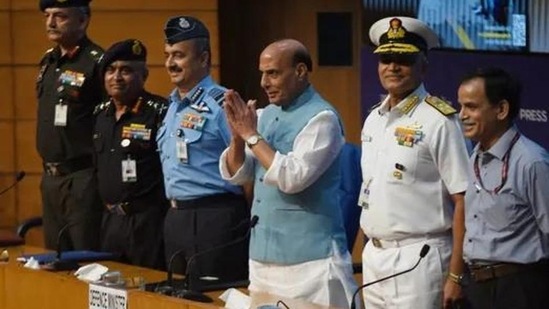 Published on Jun 18, 2022 12:22 PM IST
A security guard was killed and several members of the Sikh community are believed to be trapped inside the Gurdwara Karte Parwan in the Afghan capital after suspected Islamic State terrorists stormed the shrine on Saturday morning.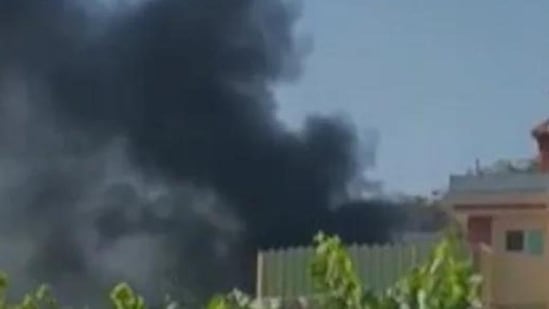 Published on Jun 18, 2022 12:02 PM IST
'We are closely monitoring the situation and waiting for further details on the unfolding developments,' said external affairs ministry in a statement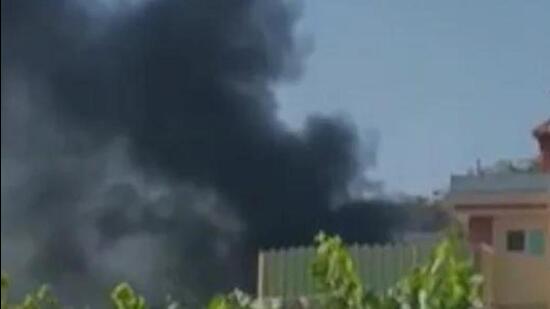 Updated on Jun 18, 2022 11:33 AM IST
Two Congress leaders, part of the delegation scheduled to meet President Ram Nath Kovind on Monday, have reportedly informed their colleagues that they are not willing to do the RT-PCR test to meet the President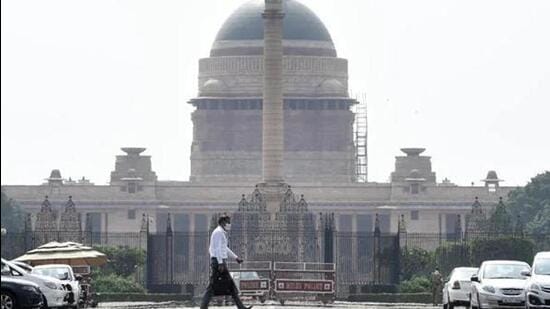 Updated on Jun 18, 2022 10:47 AM IST
Union home minister Amit Shah said that the home ministry has decided to give 3 years' age relaxation beyond the prescribed upper age limit to Agniveers for recruitment in the paramilitary forces and Assam Rifles. For the first batch, the age relaxation will be for 5 years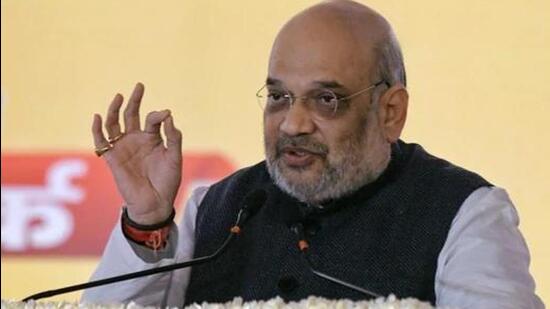 Updated on Jun 18, 2022 10:28 AM IST
After months of steady fall, India is witnessing a fresh surge in daily infections, mostly fuelled by pockets of outbreak in the country's large urban centres.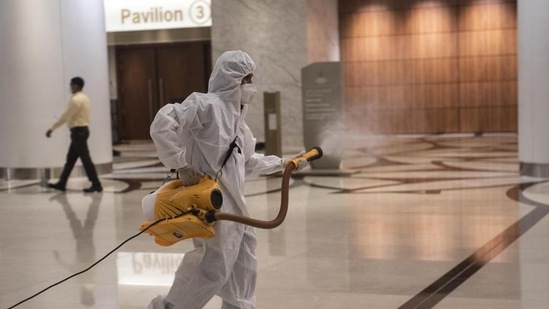 Published on Jun 18, 2022 09:48 AM IST
Agnipath scheme protest live updates: The protest against the scheme continued for third day on Friday with Bihar, Uttar Pradesh being the most hit states.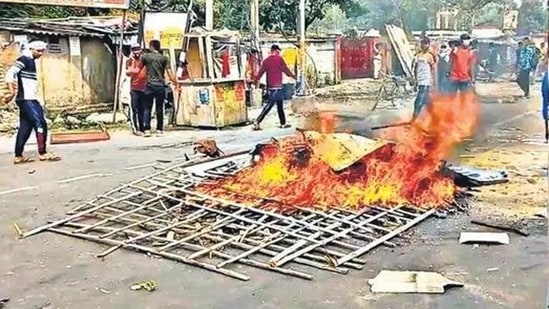 Updated on Jun 18, 2022 01:19 PM IST
The first batch of Agniveers will get a relaxation of 5 years beyond the prescribed upper age limit in CAPF and Assam Rifles recruitment, the Union home ministry announced on Saturday amid countrywide protests against the Agnipath scheme.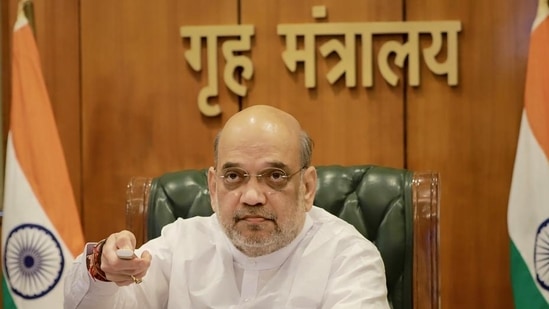 Published on Jun 18, 2022 09:04 AM IST
The body was recovered from paddy fields of Samboora village in the Pulwama district of Jammu and Kashmir.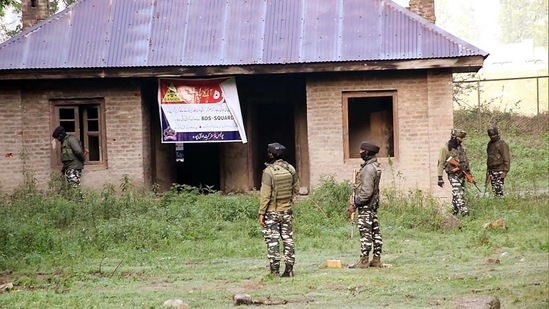 Published on Jun 18, 2022 07:56 AM IST
डिसक्लेमर
'या लेखात समाविष्ट असलेल्या कोणत्याही माहिती/सामग्री/गणनाची अचूकता किंवा विश्वसनीयता हमी नाही. ही माहिती विविध माध्यमे / ज्योतिषी / पंचांग / प्रवचन / विश्वास / धर्मग्रंथांमधून गोळा करून तुमच्यासाठी आणली गेली आहे. आमचा हेतू फक्त माहिती पोहोचवणे आहे, त्याच्या वापरकर्त्यांनी ती फक्त माहिती म्हणून घ्यावी. याव्यतिरिक्त, त्याचा कोणताही वापर वापरकर्त्याची स्वतःची जबाबदारी असेल. '
Disclaimer
'The accuracy or reliability of any information/material/calculation contained in this article is not guaranteed. This information has been brought to you by collecting from various mediums / astrologers / almanacs / discourses / beliefs / scriptures. Our purpose is only to deliver information, its users should take it as mere information. In addition, any use thereof shall be the responsibility of the user himself.'