Jungle Lodges Devbagh Beach Resort Karwar: An Honest Review – Stories by Soumya
Last Updated on May 5, 2021 by Soumya
I stayed in different properties during my coastal Karnataka trip and absolutely loved some of them. One of those was the Jungle Lodges Devbagh Beach Resort in Karwar that totally exceeded my expectations. It was so good that I decided to pen down a separate post just to adore this beach property in Uttara Kannada.
Located on a secluded island by the beach town of Karwar, Devbagh Beach Resort is a wonderful getaway for couples, families, as well as solo travelers. There is so much you can do right on the island that you can easily spend a couple of days just at the resort. On the whole, the Jungle Lodges Devbagh Beach Resort in Karwar is a complete destination in itself.
Here's my completely honest review of the beach resort at Devbagh, why I loved it, and why you will love it too. Do not miss out the last section on the 4 best things that I liked about this resort and why it was so unique. So, let's get started.
Jungle Lodges Devbagh Beach Resort Karwar: A destination in itself!
Please note: This post may contain affiliate links which means I may earn a commission if you make a purchase by clicking a link on this post. This will be at no additional cost to you. Affiliate links help me keep this website up and running. Thanks for your support!
Introduction to Devbagh Beach Resort
Jungle Lodges Devbagh Beach Resort is a property located on the seemingly isolated Devbagh beach right off the coast of Karwar in Karnataka, India.
At first, I thought that the resort was on a secluded island in the Arabian Sea. But that's not the case. It is actually located on a peninsula in the Kali river. However, the absence of any settlements nearby and a private beach give you an away-from-the-world vibe.
From the beach, you can see the point where the river water meets the sea. You can watch a stunning sunset as the sun goes down behind the sea. And you can sometimes spot dolphins jumping around.
Related: Bhagavathi Nature Camp, a stunning Jungle Lodges property in Kudremukh Karnataka
Location
Devbagh Beach Resort is located on a remote peninsula in the Kali River estuary in the city of Karwar. You can get to the resort in 2 hours from Dabolim Airport in Panaji, Goa, in 5 hours from Mangalore Airport, and in 9 hours from Bangalore Airport.
The official address goes something like this: Devbagh Beach Resort, Tariwada, Sadashivgad, Karwar, Karnataka 581352.
Cottages at the resort
The resort has 20 cottages/log-huts on stilts, each named after a different bird. They are situated in a dense casuarina tree grove and many of them have a view of the sea.
You need to climb a flight of stairs to get to your cottage. Each one has a balcony where you can sit and enjoy a cup of tea/coffee. The rooms are neat and comfortable – equipped with a double bed (+single bed if you need one) and fitted with air conditioning. Bathrooms are clean and furnished with the very typical (and much loved!) Mysore Sandal soap bars that you find at every Jungle Lodges property. There is clean drinking water in every room.
Tip: Check out the wifi code pasted behind the front door of your room. Just scan it and you have access to uninterrupted wifi throughout the island.
Food and drinks
Based on my personal experience, food options at the beach resort in Devbagh are great. The food is delicious, options are varied, and quantity is sumptuous.
You will be served breakfast and lunch at a round-shaped restaurant called Gol Ghar, again typical to all Jungle Lodges properties. When I was here, breakfast included dosas, idli, chutney, sambar, sheera, poha, bread toast, fresh fruits, omelet, and tea/coffee. You can enjoy evening tea by the beach too. They usually have cookies to go with it.
Dinner is served on the beach and is magical. You can take part in a live seafood cooking session before dinner and then enjoy what you have cooked. If you are a vegetarian and wish to cook, request them for something veg. They will usually oblige with mushrooms. If you are not keen on cooking, there are plenty of veggie dishes on the dinner menu.
There is a bar on the beach where you can buy your own drinks. It is not included in the usual tariff.
Keen to learn more about coastal Karnataka cuisine? Check out this delicious guide to Mangalorean food!
Special experiences at Devbagh Beach Resort
Experience a variety of special activities during your stay at the Jungle Lodges Devbagh Beach Resort. Dolphin watching tours, early morning nature walk, and bird watching are usually included in the accommodation package. In the evenings, you can also experience a campfire on the beach with floating lanterns accompanied by a much-awaited barbeque.
If you are feeling adventurous, then there are a host of water sports to choose from. Jetski, banana boat ride, speed boat ride, kayaking, bumpy ride, and water tubing are some of the popular ones. You can also reserve a tour of nearby mangroves and a visit to Kalika Matha temple island. Or make a trip to the nearby fishing village and watch the bounty of the sea. By the way, there is also a spa at the property which has some rave reviews (I haven't tried it though!).
Devbagh Beach Resort Booking
You can book your stay at the resort directly through the Jungle Lodges (JLR) website. Or write to them at info@junglelodges.com. If you prefer to talk, call the following numbers: +91 9449599778 and +91 9449599759.
You will notice two different packages for the resort on the JLR website. I highly recommend taking the Beach Package because a Basic Package will eventually cost more when you include the boat ride and the meals.
Make sure you read other reviews on Tripadvisor here before booking. If you are feeling too overwhelmed with the online booking process, feel free to get in touch with Mr. Roshan Pinto from R.R.Tours & Travels at +91 98453 31926. He comes highly recommended in the region and I have been using his services personally. Mr. Pinto will not only help you liaise with the resort team but also help get attractive discounts if they are available.
Devbagh Beach Resort Karwar price
The tariff of Devbagh Beach Resort at Karwar is usually INR 6k+ per person per night for the beach package. This includes stay, all meals, boat ride to the island and back, dolphin watching, and nature walk.
A basic package is also available and that usually costs INR 1.5k+ per person per night. However, this only includes stay and nature walk. Since there are no other restaurants on the island, you will need to eat all 4 meals at the resort. Plus, you need a ferry ride to and from the mainland.
The resort usually has a 30% discount on all weekdays except during government holidays. So, if you are planning to spend some time during the week, do check this with them.
Devbagh Beach Resort contact number
Here are two numbers through which you can get in touch with the team at the Devbagh beach resort in Karwar:
+91 9449599778 | +91 9449599759
Best time to visit Devbagh beach
The best time to visit Devbagh beach in Karwar, Karnataka is during winter and spring [November – April] when the temperatures are cooler and the weather is not that humid. Water is just perfect for a dip in the sea. Summer is also a good time to enjoy water sports. It is easier to spot dolphins at this time too.
Looking to club more places with your Devbagh beach trip? Check out our guide on the 13 best places to visit in Coastal Karnataka!
Devbagh Beach Resort FAQ
Which popular attractions are close to Jungle Lodges Devbagh Beach Resort?
Because of the resort's proximity to Karwar, several tourist attractions are close by. They include Rabindranath Tagore Beach, Kali River Garden, Rock Stone Garden, the sandalwood town of Kumta, Oyster Rock Lighthouse, Devbagh Mangroves and Kalika Matha Temple. The hotel management can actually arrange for a half-day trip to the mangroves and Kali temple for extra charges if you want. Also to Oyster rock lighthouse.
What are some of the property amenties at Devbagh Beach Resort?
Property amenities at the resort include clean and comfortable cottage rooms equipped with AC, clean drinking water, coffee maker, attached bathrooms, delicious meals served at the Gol Ghar or the beach, uninterrupted WIFI connection throughout the beach, an Ayurvedic spa, and a doctor on call.
What food & drink options are available at Jungle Lodges Devbagh Beach Resort?
Food at Devbagh Beach Resort includes local delicacies. sea food, and a number of veg and non-veg items. Generally all meals (breakfast, lunch, evening buffet snacks, and dinner) are included in the accommodation package. Breakfast and lunch are served at Gol Ghar, a circular restaurant in the middle of casuarina groves. Dinner is served on the beach. You can buy your own hard drinks at the bar by the beach.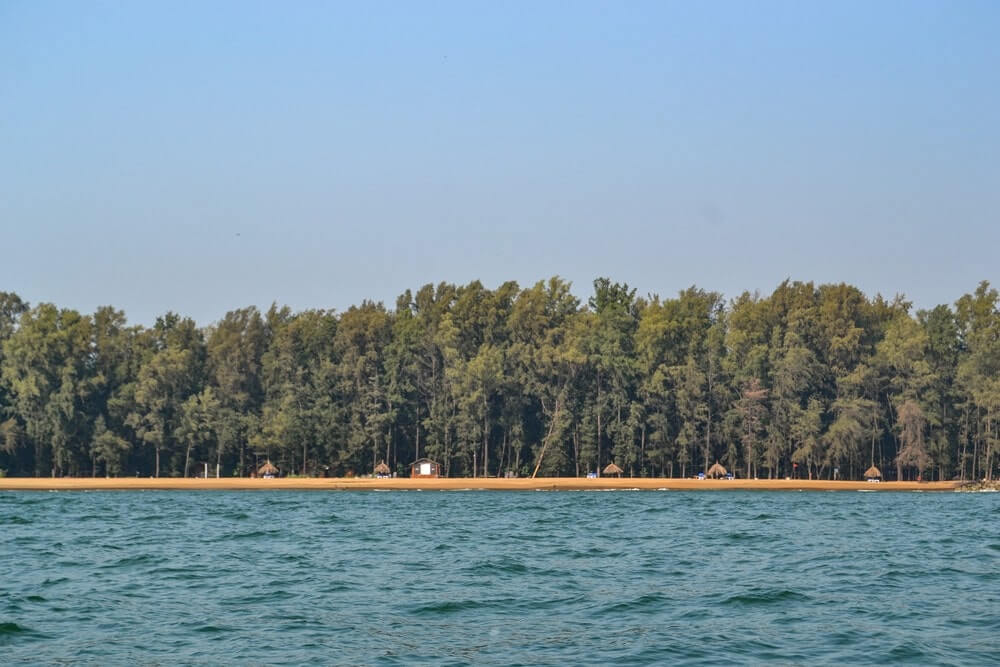 Is parking available at Devbagh Beach Resort?
Free parking is available at the Jungle Lodges office in Karwar. You can leave your car here and take the ferry from the Karwar dock to arrive at the resort.
Which languages are spoken by the staff at the resort?
The staff at Jungle Lodges Devbagh Beach Resort speak Hindi, English, Kannada, and Marathi. Some of them also speak Tulu, the language of Tulu Nadu.
Are there any historical sites close to Jungle Lodges Devbagh Beach Resort?
Yes, there are a few historical sites close to the resort. The Oyster Rock Lighthouse is one of them. Built in the 1860s, the lighthouse stands as a stark reminder of India's British past. Sadashivgad Fort, which was probably Shivaji Maharaj's southernmost coastal fort, is also nearby.
Does the resort have a swimming pool?
No, Devbagh Beach Resort does not have a swimming pool.
How many types of rooms are found at Jungle Lodges Devbagh Beach Resort?
There are two kinds of rooms found at JLR Devbagh Beach Resort: cottages and log huts on stilts. Even though all the rooms are same from inside, I guess it is more fun to climb up the wooden stairs of a log hut and stay in one.
Final verdict: Is Jungle Lodges Devbagh Beach Resort worth it?
Absolutely, yes! Here are 4 things that I totally loved about Devbagh Beach Resort. And I am sure you will love them too.
Enviable location: The resort is located on a stretch of peninsula far away from human habitation. Almost gives you the deserted island kind of a feeling with just nature all around you. It is the perfect place to unwind and relax.
Pristine, unspoiled beach: The beach is simply divine. Filled with golden sands, frothy waters, and strong inviting waves, this is one great private beach to lounge on.
Delicious food & foodie experiences: Everything that is served at the resort, starting with breakfast and ending with dinner, is super fresh and yummy. And there are lots of options for both vegetarians and non-vegetarians. One of my favorite experiences here was the live cooking session we had with JLR sous chef, Nischin Nayan, right on the beach.
Local experiences: The best part is, here, you have an opportunity to experience local culture too. Do not forget to take a half-day trip to the Devbagh mangroves and Kalika Mata temple or the fishing villages nearby if you are keen.
Devbagh Beach Travel Essentials
If you plan to stay in Karwar and visit Devbagh Beach only during the day, find the best hotels in Karwar.
Check out Tripadvisor Reviews here for Karwar.
If you are looking for specially curated tours to Devbagh beach, please feel free to connect with Poonam Shetty from Dream Holidays, Manipal [+91 96865 74959] and/or Roshan Pinto from R.R.Tours & Travels [+91 98453 31926]. I highly recommend both of them for their local insights and ability to provide the best travel experiences.
Before planning your trip, check out our ultimate list of the best places to visit in Coastal Karnataka and find out what to eat in Coastal Karnataka.
Karnataka's coast is sunny and hot throughout the year. Do not forget to pack your sunscreen and hat.
Be sure to carry your swimming costumes for some wonderful time at Devbagh beach.
Disclaimer: Please note that my stay at Devbagh Beach Resort in Karwar was sponsored but opinions expressed in this post are solely my own.
translate,google translate,tradutor,переводчик,traduction,google traduction,google tradutor,traduttore,,Apple, Google, Wal-Mart, IBM,GE,Coca-ColaVerizonAT&T,zillow,netflix,meowingtons,pch publishers clearing,filly fare,colourpop,,julie's freebies,amazon prime video,boohoo.com,zaful,walmart,real country ladies,adt,stephan speaks relationships,acidmath,inner light media,burn 20,campbell's,falken tyres,adobe video,dhgate,cricut the offcial,,,,youtube,facebook,amazon,gmail,google,yahoo,yahoo mail,weather,netflix,walmart,ebay,google translate,home depot,usps tracking,translate,craigslist,fox news,google docs,news,google maps,google classroom,roblox,cnn,lowes,calculator,amazon prime,paypal,speed test,hotmail,target,google drive,msn,instagram,zillow,twitter,best buy,aol mail,bank of america,wells fargo,maps,hulu,discord,ups tracking,trump,traductor,costco,reddit,indeed,disney plus,you tube,usps,pinterest,thank you coronavirus helpers,espn,etsy,linkedin,facebook login,twitch,doodle for google,nfl,dow jones,fedex tracking,capital one,chase,aol,kohls,dominos,airbnb,nba,harbor freight,spotify,bing,internet speed test,womens world cup 2019,wayfair,nfl scores,outlook,you,walgreens,finance,entertainment,solitaire,pizza hut,google flights,crestaurants near me,menards,youtube to mp3,macys,google news,xfinity,face,turbotax,amazon prime video,pandora,timer,yahoo finance,zoom,sports,verizon,,zaful,nitto tyres,c ufc fight pass,nikon instruments,skrewball whiskey,cameo,stremlabs,watkins,netbase quid,cswig life,sonubaits,visiting angels, JOY CHO / OH JOY!,MARYANN RIZZO,MASHABLE,PEUGEOT PANAMA,SALESFORCE,LONELY PLANET,,#translate,#google translate,#tradutor,#переводчик,#traduction,#google traduction,#google tradutor,#traduttore,c#Apple,# Google,# Wal-Mart,# IBM,#GE,cVerizon,AT&T,#zillow,#netflix,#meowingtons,c#filly fare,#colourpop,#,#julie's freebies,#amazon prime video,c#zaful,#walmart,#real country ladies,#adt,#stephan speaks relationships,c#inner light media,#burn 20,#campbell's,#falken tyres,#adobe video,c#cricut the offcial,#,#,#,#youtube,c#amazon,#gmail,#google,#yahoo,#yahoo mail,c#netflix,#walmart,#ebay,#google translate,#home depot,c#translate,#craigslist,#fox news,#google docs,#news,c#google classroom,#roblox,#cnn,#lowes,#calculator,c#paypal,#speed test,#hotmail,#target,#google drive,c#instagram,#zillow,#twitter,#best buy,#aol mail,c#wells fargo,#maps,#hulu,#discord,#ups tracking,c#traductor,#costco,#reddit,#indeed,#disney plus,c#usps,#pinterest,#thank you coronavirus helpers,#espn,#etsy,c#facebook login,#twitch,#doodle for google,#nfl,#dow jones,c#capital one,#chase,#aol,#kohls,#dominos,c#nba,#harbor freight,#spotify,#bing,#internet speed test,c#wayfair,#nfl scores,#outlook,#you,#walgreens,c#entertainment,#solitaire,#pizza hut,#google flights,#google scholar,c#menards,#youtube to mp3,#macys,#google news,#xfinity,c#turbotax,#amazon prime video,#pandora,#timer,#yahoo finance,c#sports,#verizon,#,#zaful,#nitto tyres,c# ufc fight pass,#nikon instruments,#skrewball whiskey,#cameo,#stremlabs,c#netbase quid,#petlab co,#swig life,#sonubaits,#visiting angels,c#MARYANN RIZZO,#MASHABLE,#PEUGEOT PANAMA,#SALESFORCE,#LONELY PLANET,AFFILIATES DISCLAIMERDISCLAIMERWEBSITE DISCLAIMERThe information provided https://varor.in/ and our mobile application is for general informational purposes only. All information on the Site and our mobile application is provided in good faith, however we make no representation or warranty of any kind, express or implied, regarding the accuracy, adequacy, validity, reliability, availability or completeness of any information on the Site or our mobile application. UNDER NO CIRCUMSTANCE SHALL WE HAVE ANY LIABILITY TO YOU FOR ANY LOSS OR DAMAGE OF ANY KIND INCURRED AS A RESULT OF THE USE OF THE SITE OR OUR MOBILE APPLICATION OR RELIANCE ON ANY INFORMATION PROVIDED ON THE SITE AND OUR MOBILE APPLICATION. YOUR USE OF THE SITE AND OUR MOBILE APPLICATION AND YOUR RELIANCE ON ANY INFORMATION ON THE SITE AND OUR MOBILE APPLICATION IS SOLELY AT YOUR OWN RISK.EXTERNAL LINKS DISCLAIMERThe Site and our mobile application may contain (or you may be sent through the Site or our mobile application) links to other websites or content belonging to or originating from third parties or links to websites and features in banners or other advertising. Such external links are not investigated, monitored, or checked for accuracy, adequacy, validity, reliability, availability or completeness by us. WE DO NOT WARRANT, ENDORSE, GUARANTEE, OR ASSUME RESPONSIBILITY FOR THE ACCURACY OR RELIABILITY OF ANY INFORMATION OFFERED BY THIRD-PARTY WEBSITES LINKED THROUGH THE SITE OR ANY WEBSITE OR FEATURE LINKED IN ANY BANNER OR OTHER ADVERTISING. WE WILL NOT BE A PARTY TO OR IN ANY WAY BE RESPONSIBLE FOR MONITORING ANY TRANSACTION BETWEEN YOU AND THIRD-PARTY PROVIDERS OF PRODUCTS OR SERVICES.PROFESSIONAL DISCLAIMERThe Site cannot and does not contain blogger advice. The blogger information is provided for general informational and educational purposes only and is not a substitute for professional advice. Accordingly, before taking any actions based upon such information, we encourage you to consult with the appropriate professionals. We do not provide any kind of blogger advice. THE USE OR RELIANCE OF ANY INFORMATION CONTAINED ON THIS SITE OR OUR MOBILE APPLICATION IS SOLELY AT YOUR OWN RISK.AFFILIATES DISCLAIMERThe Site and our mobile application may contain links to affiliate websites, and we receive an affiliate commission for any purchases made by you on the affiliate website using such links. Our affiliates include the following:ClickbankCJ Affiliate by ConversantMaxBountyShareASaledigisotre24semrushwarriour plusclickbankTESTIMONIALS DISCLAIMERThe Site may contain testimonials by users of our products and/or services. These testimonials reflect the real-life experiences and opinions of such users. However, the experiences are personal to those particular users, and may not necessarily be representative of all users of our products and/or services. We do not claim, and you should not assume, that all users will have the same experiences. YOUR INDIVIDUAL RESULTS MAY VARY. The testimonials on the Site are submitted in various forms such as text, audio and/or video, and are reviewed by us before being posted. They appear on the Site verbatim as given by the users, except for the correction of grammar or typing errors. Some testimonials may have been shortened for the sake of brevity where the full testimonial contained extraneous information not relevant to the general public.The views and opinions contained in the testimonials belong solely to the individual user and do not reflect our views and opinions. We are not affiliated with users who provide testimonials, and users are not paid or otherwise compensated for their testimonials.