T20 World Cup 2021: India's squad, schedule, date, time and venue
The International Cricket Council (ICC) has announced the schedule of the upcoming ICC T20 World Cup 2021. The marquee tournament is scheduled to begin from October 17, meanwhile, the final of the event will take place on November 14. Team India will enter the tournament as one of the favorites to win the trophy.
Notably, India is placed in Group B of the tournament along with Pakistan, New Zealand, and Afghanistan. Virat Kohli-led India will start their campaign in a high-voltage battle against arch-rivals Pakistan. Team Pakistan does not have a good record against India in the World Cup.
Be it T20 World or 50-over World Cup, India has been victorious in all the games. Meanwhile, India will then face New Zealand, and New Zealand has dominated ICC events against India so far. New Zealand beat men in blue in the 2007 T20 World Cup, 2016 T20 World Cup, 2019 ODI World Cup and 2021 WTC finals.
ALSO READ: I just want to go beyond my abilities – Shreyas Iyer ready to 'do anything' to be part of India's T20 World Cup squad
However, Virat Kohli and co. One of the strongest sides in the upcoming event. As he has covered every aspect of the team. From top to bottom, India has understood everything. Strong bench strength is one of the biggest positives for India ahead of the tournament as they have various options available in the team.
With the Indian Premier League (IPL 2021) scheduled to take place just ahead of the World Cup, big names like Rohit Sharma, Virat Kohli and Jasprit Bumrah are expected to enter the marquee event.
ALSO READ: Veteran pacer Wahab Riaz feels Pakistan can beat India if they do their best in T20 World Cup
Notably, India won the inaugural edition of the T20 World Cup in 2007. Furthermore, they were runners-up in 2014, in addition, they reached the semi-finals of the 2016 World Cup.
India's Probable Squad for ICC T20 World Cup 2021: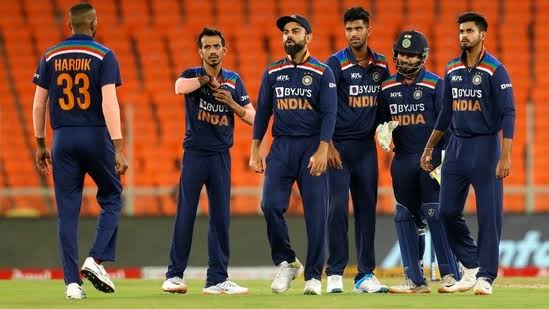 Virat Kohli (c), Rohit Sharma (vc), KL Rahul, Shikhar Dhawan, Prithvi Shaw, Ishan Kishan (wk), Shreyas Iyer, Suryakumar Yadav, Hardik Pandya, Rishabh Pant (wk), Shardul Thakur, Deepak Chahar, Krunal Pandya , Ravindra Jadeja, Axar Patel, Washington Sundar, Yuzvendra Chahal, Kuldeep Yadav, Rahul Chahar, Varun Chakravarthy, Jasprit Bumrah, Bhuvneshwar Kumar, Mohammed Shami, Mohammed Siraj, T Natarajan.
India's full schedule for ICC T20 World Cup 2021:
24 October 2021: India vs Pakistan, 7:30 pm, Dubai
31 October 2021 India vs New Zealand, 7:30 pm, Dubai
November 3, 2021 India v Afghanistan, 7:30 pm, Abu Dhabi
5 November 2021 India vs B1, 7:30 pm, Dubai
8 November 2021 India vs A2, Dubai at 7:30 pm
Also read: "Mumbai Indians will win their third successive IPL trophy and then India will also win T20 World Cup" – Hardik Pandya
डिसक्लेमर
'या लेखात समाविष्ट असलेल्या कोणत्याही माहिती/सामग्री/गणनाची अचूकता किंवा विश्वसनीयता हमी नाही. ही माहिती विविध माध्यमे / ज्योतिषी / पंचांग / प्रवचन / विश्वास / धर्मग्रंथांमधून गोळा करून तुमच्यासाठी आणली गेली आहे. आमचा हेतू फक्त माहिती पोहोचवणे आहे, त्याच्या वापरकर्त्यांनी ती फक्त माहिती म्हणून घ्यावी. याव्यतिरिक्त, त्याचा कोणताही वापर वापरकर्त्याची स्वतःची जबाबदारी असेल. '
Disclaimer
'The accuracy or reliability of any information/material/calculation contained in this article is not guaranteed. This information has been brought to you by collecting from various mediums / astrologers / almanacs / discourses / beliefs / scriptures. Our purpose is only to deliver information, its users should take it as mere information. In addition, any use thereof shall be the responsibility of the user himself.'