These Homestays In Panchgani Will Make You Forget About Your Own Home!
Panchgani has always been widely popular among wanderlust travelers of India. At a height of 1,334 meters, Panchgani is the perfect balance between beauty and adventure. This mesmerising hill station not only is aesthetically pleasing but is culturally and historically enriching as well. The homestays over there not only offer a cozy and warm stay, but they are gorgeous as well. What better way can be to explore the hill station than living in one of the homestays in Panchgani. If you are looking forward to spending some time in Panchgani, note down the following homestays that will make your holidays full of joy and comfort.
10 Best Homestays In Panchgani
The following homestays are some of the top-rated places to stay in Panchgani by several renowned travel websites and critics.
1. Walnut Villa
Located at a distance of 5 km from the city centre of Panchgani, this is a two-storied house that has the capability of accommodating ten guests. The house has a total of three bedrooms with three attached bathrooms. At an amazingly affordable price, Walnut Villa is one of the top-quality cheap homestays in Panchgani that will reduce the budget of your trip. With two bedrooms on the first floor and a dining hall, living area and another bedroom on the first floor, this place is perfect for spending a few days away from the hustle and bustle of the city life. You will not have in the problem going to the main town of Panchgani since the Panchgani-Mahabaleshwar highway is situated at a distance of 1 km from the house. Not only does the home offer you comfortable lodging, but they offer home-cooked and delicious food as well. With the options of choosing breakfast, lunch, and dinner, this house genuinely makes you feel at home.
Highlight: A spacious house amid nature that will help you forget the stress and tension of the hectic city life by offering luxury and comfort.
Location: Bhilar, Maharashtra 412805
Price: INR ,5000 and above
Trip Advisor Rating: 5/5
Must Read: 10 Best Resorts In Panchgani To Escape The Metropolitan Chaos And Clutter!
2. Eagle's Nest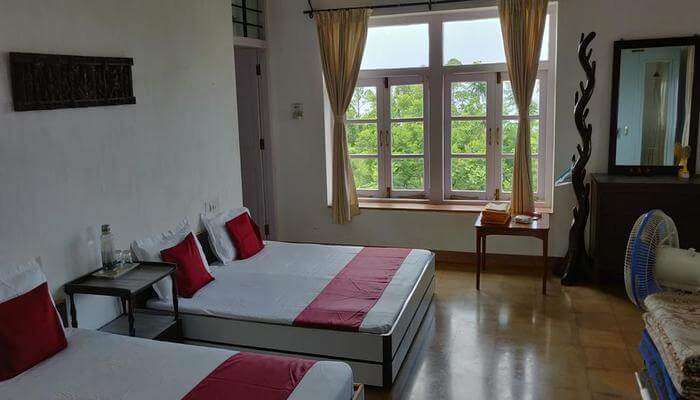 Eagle's Nest is not only an ordinary homestay, but it is a heritage property that is constructed of stone and has a colonial-era ambiance surrounding it. With organic vegetable plantation and more than five acres of a garden, this is one of the most excellent Panchgani homestays that you will find on the internet. The villa has two private bedrooms for their guests with attached bathrooms. You will be able to access individual balconies attached to the rooms. All the rooms let you view the incredible beauty of Krishna river, Dhom Lake, Dhom dam and many more. This alluring villa offers accommodation to four people in one room since each room two separate king-sized beds. The house also comes with a library, heritage hall and private car-parking space. Since the house is built on top of the mountain, every point of the house has access to the mesmerising view. If you are thinking to spend some quaint time with your loved ones, Eagle's Nest is the place for you.
Highlights: A colonial-era heritage villa that not only offers it's guests aesthetically pleasing views but lets them spend a few days in luxury and comfort as well.
Location: Mahabaleshwar Road Nandanvan Colony, Village Pangari, Panchgani, Maharashtra 412805
Price: INR 16,000 and above
Trip Advisor rating: 5/5
Suggested Read: 10 Restaurants In Panchgani That Serve A Piece Of Heaven On Your Plate
3. Dala Mare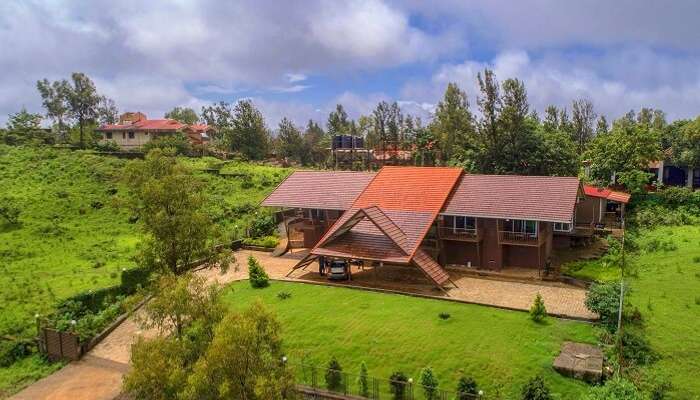 Dala Mare is one of the few homestays in Panchgani that can accommodate eighteen people at once. The house consists of six bedrooms and attached-bathrooms with balconies. It is located 3 km from Dala Rooster and is pretty close to Pandavgad Fort. This house not only offers scenic beauty but lets you connect to the abundant historical evidence of our country. The balconies of this beautiful houses have skylights and lets you view the clear sky at the comfort of your room. You will be able to enjoy a barbeque party in the homestay because the garden in front of the villa lets you do so. This house serves breakfast, lunch, and dinner at strict times, and no one other than the staff is allowed to enter the kitchen. Though the charges for cooked-food are extra. Another essential facility that this house offers is, you will be able to bring your pet with you during the trip.
Highlights: If you want to enjoy a few days amidst nature with your entire group of friends or family, then this villa will let you do so at a price that you will be surprised to hear.
Location: Plot No.2, Survey No. 23, Bhose, Panchgani, Maharashtra 412805
Price: INR 3,225 and above
Trip Advisor rating: 5/5
Suggested Read: 10 Best Things To Do In Panchgani That Strike A Perfect Blend Between Nature & Adventure!
4. Dala Rooster
If you are looking forward to spending some time in a luxurious villa that offers you the comfort of your home, then Dala Rooster is the place for you. This is one of the most affordable homestays in Panchgani Mahabaleshwar that lets you enjoy the mesmerising views of Bhilar waterfalls and the Sahayadri mountains. You will be able to relish the delicious food cooked by the chef in the house, and it is available in both vegetarian and non-vegetarian options. The house in quite close to theme parks, local markets and strawberry farms. There are several adventure activities that you could do while staying in the villa, including paragliding, trekking and horse riding. Each room of the villa is air-conditioned and is perfect for you to relax in peace and solitude. With exterior CCTV-camera coverage, complimentary breakfast and access to the latest technology, this villa is available to you at an affordable price.
Highlights: Situated quite close to Bhilar waterfalls, this villa can not only accommodate 25 people but offers access to the latest gadgets as well.
Location: Subplot of Survey No. 545/5, Near T.C.S. Guest House, Panchgani, Satara, Maharashtra 412805
Price: INR 3,440 and above
Trip Advisor rating: 5/5
Suggested Read: 15 Best Panchgani Hotels That Let You Witness The Earthly Art Of God!
---
Planning your holiday but confused about where to go? These travel stories help you find your best trip ever!
---
5. Grande Montana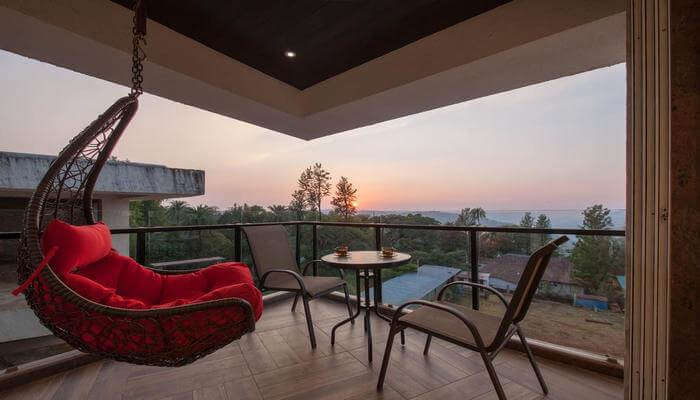 If you are planning a getaway for a group of twenty people or more, you should consider Grande Montana. This villa has to be booked entirely by you and for a minimum period of five nights. But the price offered for the entire villa is amazingly affordable. It comes with a swimming pool, private lawn, spacious dining and living spaces, air-conditioned bedrooms, and attached balconies. The view offered to the guests of Grande Montana is memorable since the house is located amidst beautiful and enchanting mountains. You will be able to enjoy DTH TV connection from your room and hot water supply in your bathroom. If you are planning a family get-together or a cosy family function, then Grande Montana is one of the perfect homestays in Panchgani that will be able to tick all of your boxes.
Highlight: A perfect getaway for a group of friends and families that lets their guests spend a few days amidst luxury, comfort, good food and mesmerising scenic beauty.
Location: 242A, next to Wonder Woods Resort, near Ghat Jai Mandir Panchgani, taluka, Mahabaleshwar, Maharashtra 412805
Price: INR 38,054 (for the entire villa)
Trip Advisor rating: 5/5
Suggested Read: 10 Spots That Make Panchgani A Fine Weekend Getaway For Mumbaikars!
6. Amor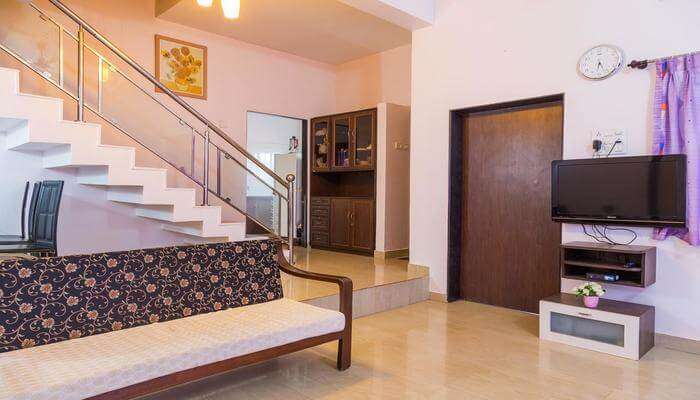 Surrounded by enchanting mountains and calm, this villa can accommodate up to thirty people. With six bedrooms and attached bathrooms, this house is meant for enjoying a few days amidst fun, frolic, nature and togetherness. Not only does the home have a swimming pool, but you can have fun with your family in the private lawn as well. Each room of the villa has an attached balcony that brings you closer to nature in an unimaginable way. You will be able to access wardrobes, DTH TVs, air conditioner from any room of the villa. The staff of the house remembers to offer fresh linens and toiletries in each room. Each bathroom comes with geyser for 24*7 hot water supply. You will also be able to cook food in the kitchen offered by the house. With the advanced arrangement, you will be able to get access to a chef. You can bring your pets with you to enjoy the place in peace.
Highlights: With amazing features and luxury, this villa in Panchgani and Mahabaleshwar is the place for you and your family to enjoy yourselves truly
Location: H.No.153, INKaswand, Tal- Mahabaleshwar, Panchgani, Maharashtra 412805
Price: INR 21,571 and above (for the entire house)
Trip Advisor rating: 4.5/5
Suggested Read: 10 Hill Stations Near Pune That Take Serenity And Picturesque To New Highs!
7. Symphony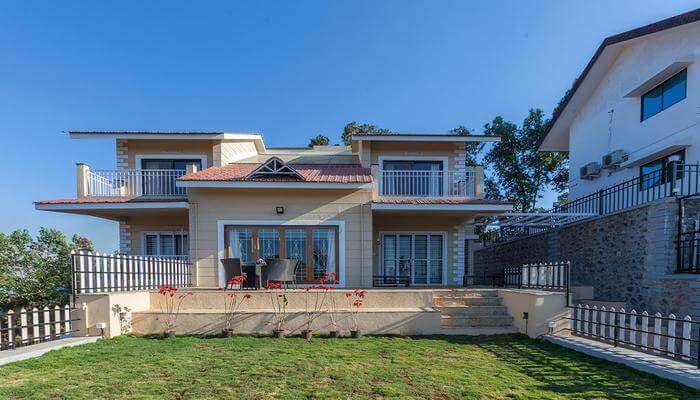 With spacious living rooms with beautiful skylights and gorgeous furniture, Symphony is one of the luxurious homestays in Panchgani that lets you access it for the weekend. This villa can accommodate twelve guests and has four bedrooms with attached bathrooms. It has a private lawn that is perfect for an impromptu barbeque with your loved ones. With one-bedroom in the ground floor and the rest on the first floor, this house comes with individual balconies. The house has a glass sun-top roof that will make your winter warm and enjoyable. With a living area that is directly connected to the lawn, this house can accommodate you to a tonne of the board and out-door games. With an additional cost, you will relish the tasty menu prepared by its chef. This villa comes with a caretaker and lets its guests park up to four cars in its property.
Highlights: Symphony is such a villa that makes sure to take care of its guests and their comfort by offering them luxury amid beautiful natural beauty.
Location: Bhilar Rd, Bhose, Maharashtra 412805
Price: INR 25,297 (for the whole house)
Trip Advisor rating: 3/5
Suggested Read: 10 Best Budget Hotels In Mahabaleshwar For Honeymoon Couples In 2021!
8. Sadguru Sadan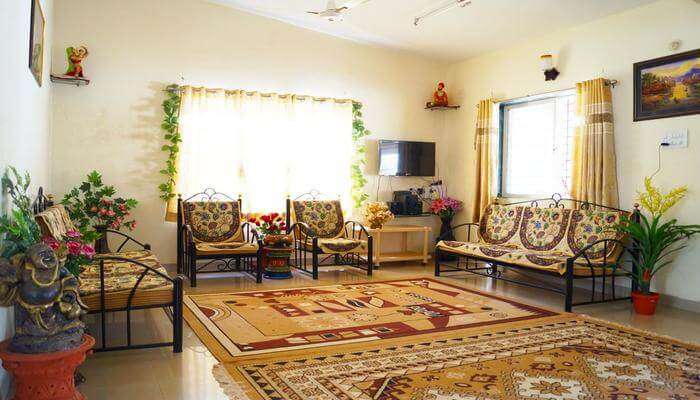 This is one of the homestays in Panchgani that is located only 2.1 km from Parsi Point. With 24*7 front-desk service and a beautiful garden, Sadguru Sadan is a lovely house to spend time with your friends or families. With a restaurant, patio and mesmerising views of the river, this homestay is highly recommended by fellow travellers. You will be able to access washing machine, rent a bicycle and use flat-screen television sets in the trip to this house.
Highlight: At a location quite close to the main city centre of Panchgani, this villa is quite popular among tourists.
Location: C-137, Nandanvan Colony, Panchgani-Mahabaleshwar Road, Pachgani, Maharashtra 412805
Price: INR 7,200 (for two adults)
Suggested Read: 15 Best Resorts In Mahabaleshwar For Couples Planning A 2021 Romantic Vacay!
9. Shri Laxmi Narayan Bungalow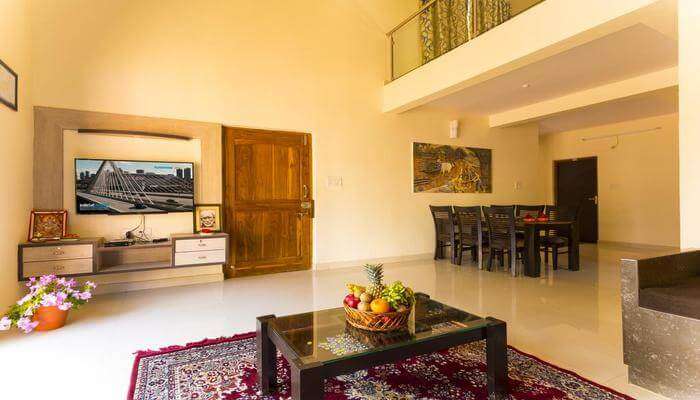 Located at a distance of 2.3 km from the Parsi point, this beautiful homestay in Panchgani offers room service to its guests. Not only are the rooms air-conditioned, but they have attached bathrooms and flat-screen television. With a dining room with ample space, the house allows its guests to access the microwave oven. Shri Laxmi Narayan Bungalow is 119 km away from Pune International airport. You will also be able to store your luggage because it offers extra storage place for its guests.
Highlights: This bungalow offers mesmerizing views from the balconies to their guests and lets them have the time of their lives.
Location: Satara, Maharashtra 412805
Price: INR 9,120
Suggested Read: 19 Romantic Places In Pune And Around To Visit With Your Partner In 2021
10. Eden Villa Rooms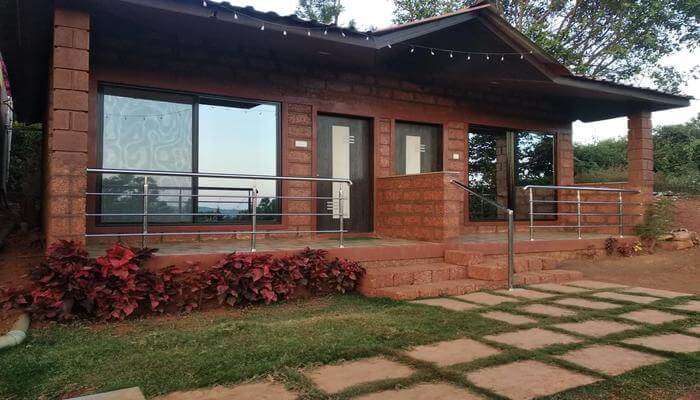 This villa is located amidst beautiful Sahayadri mountains and pretty close to Mahabaleshwar temple. The villa offers regular vegetarian breakfast and lets its guests access free Wi-Fi and private parking. You will be able to have a marvellous time in the homestay since it is pretty close to scenic locations like Arthur's Seat, Venna lake, Mapro Garden and many more.
Highlight: A fantastic homestay that offers accommodation to its guests amidst scenic beauty and general amenities.
Location: Panchgani – Mahabaleshwar Rd, Mahabaleshwar, Maharashtra
Price: INR 999 and above
Further Read: 7 Gorgeous Honeymoon Places Near Pune You'll Be Delighted To Visit In 2021!
So, are you ready to head to Panchgani for your vacation? Make sure that you check out these homestays in Panchgani instead of hotels or resorts which might burn a hole in your pocket. Without wasting another minute, plan your Panchgani vacation with TravelTriangle and get a chance to customize your own trip, that too, according to your preferences. Where can you get a chance like this anywhere else? A tip for all travelers – make sure that you are carrying your camera because you will be witnessing some of the most beautiful views.
Frequently Asked Questions About Homestays In Panchgani
How can one reach Panchgani?
Though you can reach Panchgani through flights by availing the nearest Lohegaon airport, it is better to travel through road from Pune.
Are there sight-seeing trips in Panchgani?
Yes, there are several sight-seeing trips in Panchgani including Table land, Parsi Point, Sydney point and many more. You can easily visit the said sites through walking or by availing a rental car.
What is the perfect time to visit Panchgani?
You will have a wonderful time in Panchgani from September to May as it is the best time to explore this place.
How many days are enough to explore Panchgani?
It would not take more than four days to explore Panchgani thoroughly.
What is the distance between Mahabaleshwar and Panchgani?
The distance between Mahabaleshwar and Panchgani is 69 km which can be covered by hiring a taxi from there.
Do the homestays in Panchgani offer free parking?
It entirely depends upon the categories of homestays, but it can be safely assumed, most of them offer free parking.
What are the best homestays in Panchgani?
There are several homestays located in Panchgani that will blow your mind, but the top-rated homestays are Devrai Homestay, Exotic homestay and many more.
---
People Also Read
Homestays In Dharamshala Homestays In Mahabalipuram Homestays In Ernakulam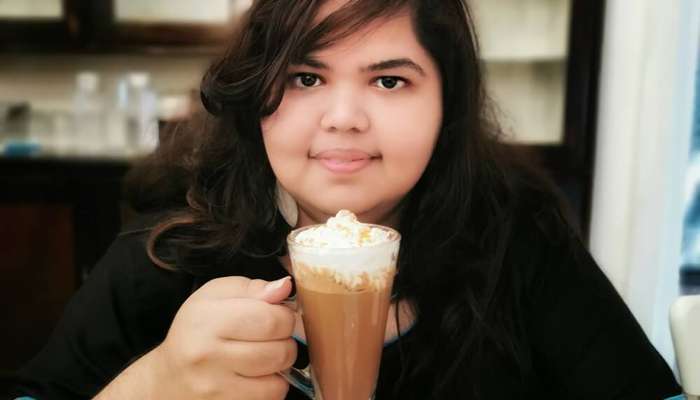 Comments
comments
translate,google translate,tradutor,переводчик,traduction,google traduction,google tradutor,traduttore,,Apple, Google, Wal-Mart, IBM,GE,Coca-ColaVerizonAT&T,zillow,netflix,meowingtons,pch publishers clearing,filly fare,colourpop,,julie's freebies,amazon prime video,boohoo.com,zaful,walmart,real country ladies,adt,stephan speaks relationships,acidmath,inner light media,burn 20,campbell's,falken tyres,adobe video,dhgate,cricut the offcial,,,,youtube,facebook,amazon,gmail,google,yahoo,yahoo mail,weather,netflix,walmart,ebay,google translate,home depot,usps tracking,translate,craigslist,fox news,google docs,news,google maps,google classroom,roblox,cnn,lowes,calculator,amazon prime,paypal,speed test,hotmail,target,google drive,msn,instagram,zillow,twitter,best buy,aol mail,bank of america,wells fargo,maps,hulu,discord,ups tracking,trump,traductor,costco,reddit,indeed,disney plus,you tube,usps,pinterest,thank you coronavirus helpers,espn,etsy,linkedin,facebook login,twitch,doodle for google,nfl,dow jones,fedex tracking,capital one,chase,aol,kohls,dominos,airbnb,nba,harbor freight,spotify,bing,internet speed test,womens world cup 2019,wayfair,nfl scores,outlook,you,walgreens,finance,entertainment,solitaire,pizza hut,google flights,crestaurants near me,menards,youtube to mp3,macys,google news,xfinity,face,turbotax,amazon prime video,pandora,timer,yahoo finance,zoom,sports,verizon,,zaful,nitto tyres,c ufc fight pass,nikon instruments,skrewball whiskey,cameo,stremlabs,watkins,netbase quid,cswig life,sonubaits,visiting angels, JOY CHO / OH JOY!,MARYANN RIZZO,MASHABLE,PEUGEOT PANAMA,SALESFORCE,LONELY PLANET,,#translate,#google translate,#tradutor,#переводчик,#traduction,#google traduction,#google tradutor,#traduttore,c#Apple,# Google,# Wal-Mart,# IBM,#GE,cVerizon,AT&T,#zillow,#netflix,#meowingtons,c#filly fare,#colourpop,#,#julie's freebies,#amazon prime video,c#zaful,#walmart,#real country ladies,#adt,#stephan speaks relationships,c#inner light media,#burn 20,#campbell's,#falken tyres,#adobe video,c#cricut the offcial,#,#,#,#youtube,c#amazon,#gmail,#google,#yahoo,#yahoo mail,c#netflix,#walmart,#ebay,#google translate,#home depot,c#translate,#craigslist,#fox news,#google docs,#news,c#google classroom,#roblox,#cnn,#lowes,#calculator,c#paypal,#speed test,#hotmail,#target,#google drive,c#instagram,#zillow,#twitter,#best buy,#aol mail,c#wells fargo,#maps,#hulu,#discord,#ups tracking,c#traductor,#costco,#reddit,#indeed,#disney plus,c#usps,#pinterest,#thank you coronavirus helpers,#espn,#etsy,c#facebook login,#twitch,#doodle for google,#nfl,#dow jones,c#capital one,#chase,#aol,#kohls,#dominos,c#nba,#harbor freight,#spotify,#bing,#internet speed test,c#wayfair,#nfl scores,#outlook,#you,#walgreens,c#entertainment,#solitaire,#pizza hut,#google flights,#google scholar,c#menards,#youtube to mp3,#macys,#google news,#xfinity,c#turbotax,#amazon prime video,#pandora,#timer,#yahoo finance,c#sports,#verizon,#,#zaful,#nitto tyres,c# ufc fight pass,#nikon instruments,#skrewball whiskey,#cameo,#stremlabs,c#netbase quid,#petlab co,#swig life,#sonubaits,#visiting angels,c#MARYANN RIZZO,#MASHABLE,#PEUGEOT PANAMA,#SALESFORCE,#LONELY PLANET,AFFILIATES DISCLAIMERDISCLAIMERWEBSITE DISCLAIMERThe information provided https://varor.in/ and our mobile application is for general informational purposes only. All information on the Site and our mobile application is provided in good faith, however we make no representation or warranty of any kind, express or implied, regarding the accuracy, adequacy, validity, reliability, availability or completeness of any information on the Site or our mobile application. UNDER NO CIRCUMSTANCE SHALL WE HAVE ANY LIABILITY TO YOU FOR ANY LOSS OR DAMAGE OF ANY KIND INCURRED AS A RESULT OF THE USE OF THE SITE OR OUR MOBILE APPLICATION OR RELIANCE ON ANY INFORMATION PROVIDED ON THE SITE AND OUR MOBILE APPLICATION. YOUR USE OF THE SITE AND OUR MOBILE APPLICATION AND YOUR RELIANCE ON ANY INFORMATION ON THE SITE AND OUR MOBILE APPLICATION IS SOLELY AT YOUR OWN RISK.EXTERNAL LINKS DISCLAIMERThe Site and our mobile application may contain (or you may be sent through the Site or our mobile application) links to other websites or content belonging to or originating from third parties or links to websites and features in banners or other advertising. Such external links are not investigated, monitored, or checked for accuracy, adequacy, validity, reliability, availability or completeness by us. WE DO NOT WARRANT, ENDORSE, GUARANTEE, OR ASSUME RESPONSIBILITY FOR THE ACCURACY OR RELIABILITY OF ANY INFORMATION OFFERED BY THIRD-PARTY WEBSITES LINKED THROUGH THE SITE OR ANY WEBSITE OR FEATURE LINKED IN ANY BANNER OR OTHER ADVERTISING. WE WILL NOT BE A PARTY TO OR IN ANY WAY BE RESPONSIBLE FOR MONITORING ANY TRANSACTION BETWEEN YOU AND THIRD-PARTY PROVIDERS OF PRODUCTS OR SERVICES.PROFESSIONAL DISCLAIMERThe Site cannot and does not contain blogger advice. The blogger information is provided for general informational and educational purposes only and is not a substitute for professional advice. Accordingly, before taking any actions based upon such information, we encourage you to consult with the appropriate professionals. We do not provide any kind of blogger advice. THE USE OR RELIANCE OF ANY INFORMATION CONTAINED ON THIS SITE OR OUR MOBILE APPLICATION IS SOLELY AT YOUR OWN RISK.AFFILIATES DISCLAIMERThe Site and our mobile application may contain links to affiliate websites, and we receive an affiliate commission for any purchases made by you on the affiliate website using such links. Our affiliates include the following:ClickbankCJ Affiliate by ConversantMaxBountyShareASaledigisotre24semrushwarriour plusclickbankTESTIMONIALS DISCLAIMERThe Site may contain testimonials by users of our products and/or services. These testimonials reflect the real-life experiences and opinions of such users. However, the experiences are personal to those particular users, and may not necessarily be representative of all users of our products and/or services. We do not claim, and you should not assume, that all users will have the same experiences. YOUR INDIVIDUAL RESULTS MAY VARY. The testimonials on the Site are submitted in various forms such as text, audio and/or video, and are reviewed by us before being posted. They appear on the Site verbatim as given by the users, except for the correction of grammar or typing errors. Some testimonials may have been shortened for the sake of brevity where the full testimonial contained extraneous information not relevant to the general public.The views and opinions contained in the testimonials belong solely to the individual user and do not reflect our views and opinions. We are not affiliated with users who provide testimonials, and users are not paid or otherwise compensated for their testimonials.